This is a sponsored post written by me on behalf of Cottonelle.
I've been a fan of Cottonelle toilet tissue for years. It's one of my Mother's favorite brands too. I like the gentle, yet tough texture. It's gentle on your areas "down there," but tough enough not to tear. I just learned about the Cottonelle Fresh Care Cleansing Cloths, which add a layer of freshness to your bathroom routine. Keep reading for a look at the sleek dispenser, to learn why a new cleaning routine may be refreshing, and why it's all worth a good laugh!
Cottonelle Fresh Care Cleaning Cloths
Check out the design of the Cottonelle Fresh Care Cleansing Cloths. The color goes with any bathroom decor. Once you unwrap the container and pull the wipes through the dispenser, you're ready to go. Get it? Go!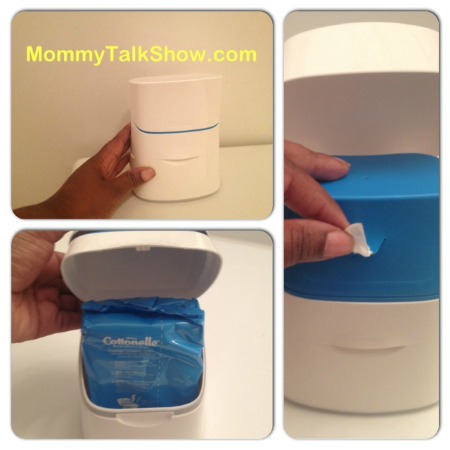 We all know when it comes to "down there" sometimes tissue alone can't do the job. For maximum freshness, Cottonelle encourages you to use dry tissue, a fresh care wipe, and then dry tissue again to finish the job.
I'm showing my age here, but some of use used to "invent" our own moisturized wipes for bum care by wetting toilet tissue. Although it brought a bit of relief, it was messy and the tissue could fall apart. Cottonelle Cleansing Cloths are flushable and durable to handle bum care.
I grew up with plenty of lessons about caring for your bum. My Mother reminded us (girls) to wipe from front to back. There were also reminders about wiping with a fresh tissue until your bum was clean. As moms, who usually have diaper and laundry duty we know who's doing a good job cleaning their bum. If we didn't, my Mother would complain on laundry day!
Cottonelle Fresh Care On the Go
When your bum needs attention on the go, Cottonelle also has a 10-pack of Fresh Care wipes that you can fit in your purse.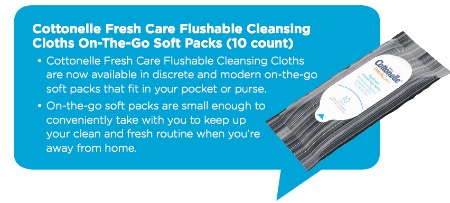 They're just like the antibacterial wipes we keep handy for our kids, just designed for intimate areas. I'd like to grab these on my next shopping trip and keep them with my other on-the-go feminine products.
When I used the wipes at home I was delighted by the light fragrance the ease of using the dispenser. The next challenge is getting our three year old on board using them since he always asks for help when his bum needs attention.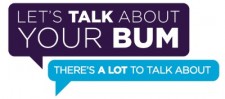 Do you need a good laugh? Head over to the Cottonelle Facebook page  so you can see the interactive videos with Cherry Healey created. She's a London filmmaker who is a pro at saying #LetsTalkBums to anyone and everyone. My favorite is the video where she interviewed car enthusiasts about whether they care for their bums as well as they care for their bumpers. You may feel weird at first when you watch it since a recent survey showed more than 50 percent of Americans weren't raised to discuss bathroom practices.
Comment below: Do you discuss bum care with your children? How can we get more comfortable about talking about bathroom care?
Would you show them Cherry's videos to get the conversation going? Will you try Cottonelle's fresh care routine of dry tissue, wet wipes, followed by dry tissue?
Don't forget to like Cottonelle on Facebook!
Disclosure: This is a sponsored post written by me on behalf of Cottonelle.