I've been a Kroger shopper since I moved to Mississippi in 2002. I liked the selection, pricing, double coupons, cleanliness of the stores and the speedy checkout lines. Well, all good things must come to an end. I just found out Kroger is changing its double coupon policy, but everyday low prices are getting reduced too.
I joined a group of bloggers last week to tour the Kroger Dunwoody store. We saw new signage and tags to show shoppers that the prices they'll see will get even lower.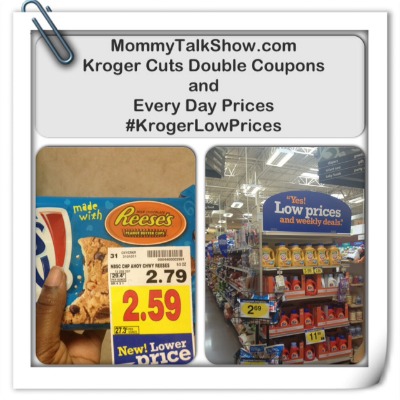 Double Coupons Policy 
Kroger's marketing team announced that starting September 22, 2013 it would only accept the face value of coupons and no longer double coupons. Its research shows fewer people are using coupons. To allow more widespread savings, Kroger decided to lower prices across the board.  As a mediocre couponer, I will miss the double coupons. But I've also noticed fewer coupons that are eligible for doubling since their face value is more than 50 cents.
What do you think about the double coupon change? Do you use coupons regularly?
Kroger Fuel Points
On the way to the Kroger informational event, I stopped at my neighborhood Shell gas station to fill my tank. I got 10 cents off per gallon thanks to my Kroger Fuel points on my Plus Card. For every $100 you spend on qualified purchases per month, you earn 10 cents off per gallon at a Kroger Fuel Center or Shell Gas Station. Spend $1,000 and you'll earn a maximum of $1.00 off per gallon.
It may seem unreasonable to spend $1,000 a month at Kroger. But besides groceries you can earn points for prescriptions and gift card purchases. If you need gift cards as presents, consider buying them and registering your purchase with your Kroger Plus Card to earn double points. For instance, I buy a Starbucks gift card for myself at least once a month to earn fuel points for the coffee and desserts I enjoy each week.
Comment below: What do you think of the pricing changes at Kroger? Do you use a Kroger plus rewards card to earn points or load digital coupons?
To learn more like Kroger on Facebook  and visit Kroger.com.