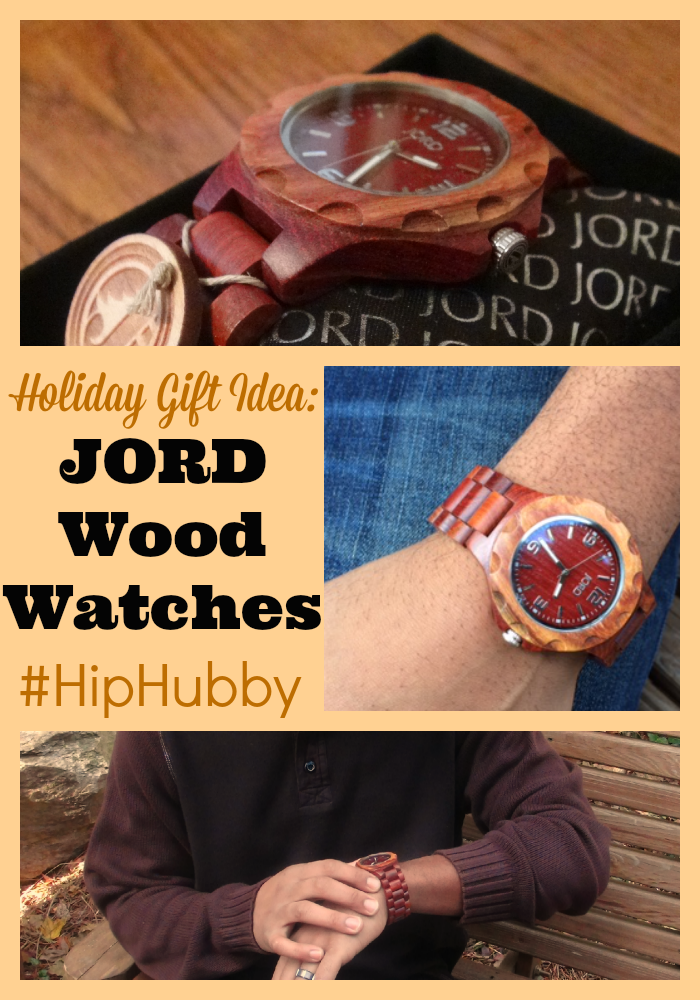 While my post-motherhood fashion has taken a turn for the worse, my husband has stayed in his groove. So when JORD Wood Watches asked me to review one of their creations for the 2014 Holiday Gift Guide, I declined one for myself and asked to review a men's watch for my #HipHubby category. Here's my husband sporting the Sully design with the Cherry face that retails for $139. I chose this color especially for Fall and Winter. Plus the watches face is my husband's favorite color: burgundy/maroon.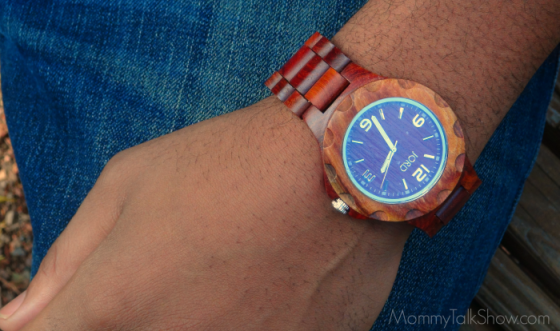 Sully Series Watch
According to the WoodWatches.com website: "Our Sully series marries complimentary and contrasting woods giving a vivid and varied tonal effect that can only be achieved when constructing a wood timepiece. The large face numbers and cut out bezel add playfulness to an otherwise classically styled timepiece."
Deployment Buckle with Push Button
Scratch Resistant Mineral
Citizen Miyota Quartz Movement (2035)
Case Width: 49mm
Case Thickness: 12mm
Lug Ends: 56mm
Band Length: 214mm
Band Thickness: 25mm
JORD Wood Watches
The locally owned and operated company in St. Louis, Missouri. "We design and produce real wood watches from sustainable materials from all around the world. We have concentrated on mostly male and unisex designs so far but we have several women's series in the works."
For the man in your life who likes watches and likes to be different, I'd recommend JORD Wood Watches as a gift idea. There are more expensive watches in the product line as well with distinct and unusual face designs, as well as women's watches. If I had to choose one for myself, I'd pick a summer look like the Cora Series with Zebrawood & Turquoise, along with Swarovski Crystals.  I think the bright turquoise color would help me integrate more bright colors into my wardrobe. It retails for $275: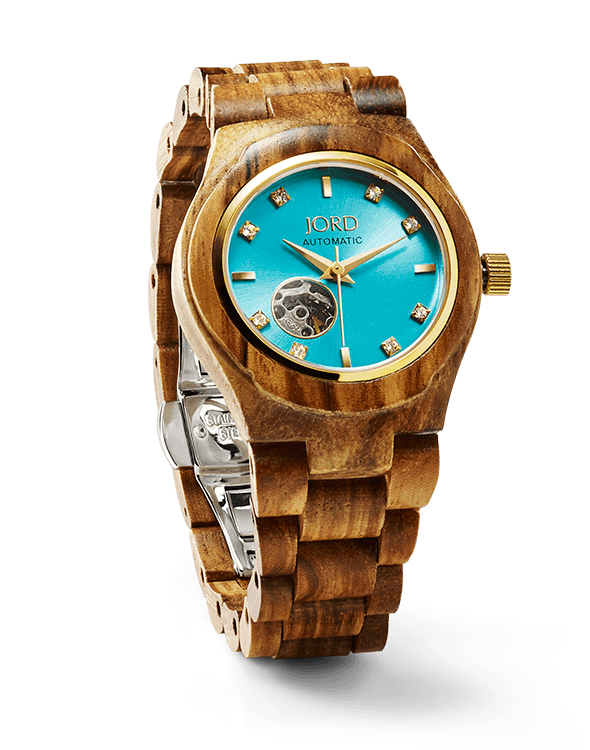 JORD Wood Watches come with a 12 month warranty to be free from defect. But that doesn't include normal wear and tear or the battery life.
Connect with JORD Wood Watches on Facebook and tweet them @woodwatches_com.