When I was researching car seats before A.J. was born we chose the Graco Snugride 35 based on safety, reliability and reviews. He came from the hospital in it when he was three days old and we used it anytime he was in my car for the next two years. So when I had the opportunity to review Graco's first jogging stroller I was game. Especially since I'm "working on my fitness" (a la Fergie from the Black Eye Peas).
Graco Jogger Event
Last week, I attended an event with a group of Georgia moms who are reviewing Graco's first jogging stroller.
Among the stand out featured we shared were the large air-filled rubber tires and lockable front wheel. My favorite feature is the one second fold. Simply pull the Fast Action strap and the stroller folds. That can keep your other hand free to hold on to your little one.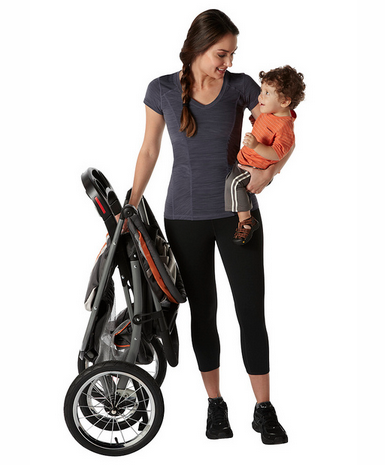 See how comfortable A.J. looks in the the Graco Jogger?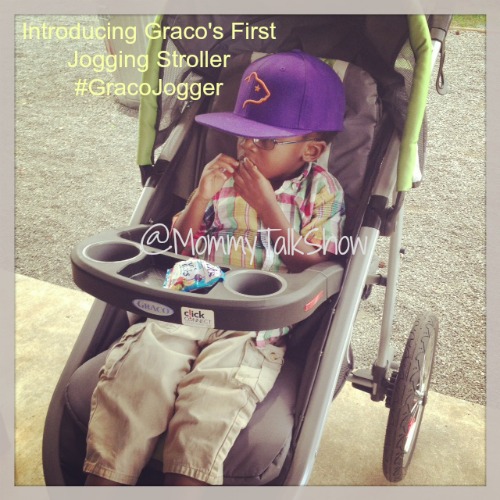 The snack tray is his favorite. It holds two cups and is removable for easy cleaning.  The tray for parents is equipped with space for two drinks, an adjustable holder for your smart phone and covered case where I keep my wallet or keys.
The jogging stroller's weight limit goes up to 50 pounds so I can still get a lot of use out of it since A.J. is barely 30 pounds, depending on how well he eats this week. He's told me he prefers the "new stroller" because it higher and more comfortable.
If you already have a Graco Click Connect Infant Car Seat, it can fit into to new jogging stroller with a secure one-step attachment.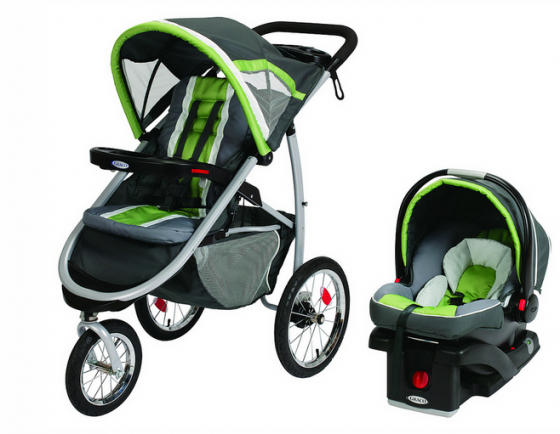 What features from the new Graco jogger are most appealing to you?
Share this review and news, by pinning it to a baby wish list on Pinterest, sharing it on a pregnant friend's Facebook page or sending her a tweet.
I also created a Google+ album with photos of the Graco jogging stroller kickstand and how it fit into my trunk.
Graco's NEW jogger is the ultimate crossover stroller, combining all the comfort and convenience features of a traditional stroller (FastAction Fold and Click Connect Technology) with performance and maneuverability of an all-terrain jogger.
As an added bonus, Graco's innovative one-second, one-hand FastAction™ fold automatically locks & is self-standing.
This post is sponsored by the Graco.