I've been doing a lot of protective styling with my natural hair. I don't use heat to dry or style it. Each week I "co-wash" my hair which means I don't use shampoo, just conditioner to wash and rinse it. I was excited to review an organic shampoo & conditioner, green + glam, since it's all-natural.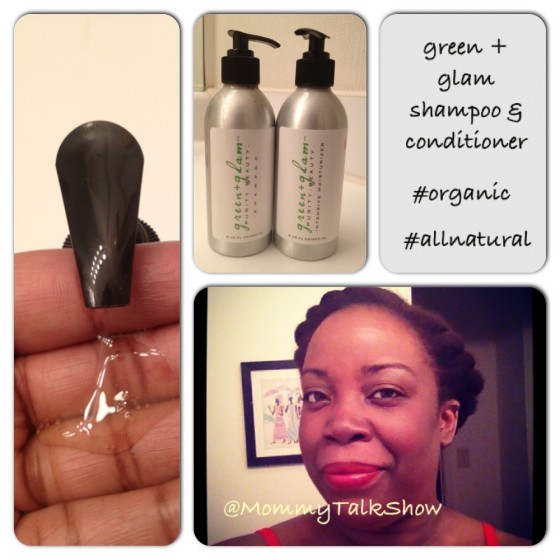 Here's what I got to review:
green + glam Shampoo: $22
"Organic olive leaf extract with anti-oxidants promote hair growth and delivers natural shine. The blend of essential oils repair and strengthen hair, providing brilliance and shine."
green + glam Intensive Conditioner: $24
"Repairing and regenerating, This ultra rich crème conditioner drenches dry hair with nutrients and moisturizing ingredients. Organic babassu oil nourishes and softens the hair while the Blend of essential oils work together to create healthy, shiny hair."
Organic shampoo & conditioner first time experience
Like most all-natural products you don't need as much "product" to get the desired result. The shampoo didn't lather much when I used it in the shower, until I rinsed it out the first time and repeated it. Shampoos usually leave my kinky type 4 a/b hair tangled and tight.  The green + glam shampoo left the same results, so I wasn't surprised.
Then I added the intensive conditioner to my hair and immediately felt it get softer and more manageable. I used a wide tooth "shower comb" to make sure it cover my hair from root to tip. I left the conditioner is for about 10 minutes (the instructions recommend 10 minutes) while I shaved my legs and used a pumice stone on my feet. (I highly recommend you make the most of your time in the shower). I rinsed out the conditioner with tepid water and was quite pleased.
Is green + glam organic shampoo & conditioner worth talking about?
Fragrance: light and unobtrusive
Feel: the shampoo is a clear gel and the conditioner is light and creamy
Results: the shampoo was typical for most non-ethnic hair care shampoos, but the conditioner was great. My hair was very manageable and had great "slip" once I was done.
Overall: I usually don't use shampoos, but the green + glam intensive conditioner will likely become a staple part of my hair care regimen. I can see myself using this weekly. All of the essential oils it contains were very moisturizing. Although it's $24 conditioner, you won't need to use much of it.
See the other green + glam products on the Organic Beauty website.
This review was made possible by Mom Spark Media. Thoughts are my own. I received items from green&glam for the purpose of this review.