In this video interview with children's author Lisa Darnell, we talk about her amazing book, My Mommy's Water Balloon. For moms who are expecting another child, it's a wonderful book to explain to older children how the baby lives in mommy's belly until it's born.
I connected with Lisa on Twitter and she asked me to review her book. I was blown away by the story and illustrations. So was A.J. as you heard in the video. There were days I read My Mommy's Water Balloon to him 10 times! To give myself a break, I put the book high on a shelf where he couldn't see it. That's how much he loved reading about Lisa's son, Antonio, and the delightful way she explained pregnancy and childbirth to him in the book.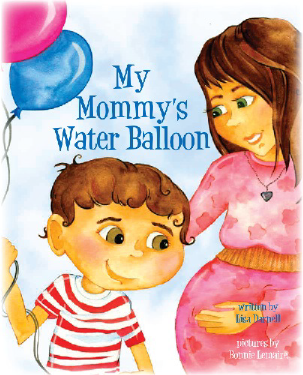 It took Lisa 15 years from the time she came up with the idea for the book to getting it published. I think that's an amazing inspiration for moms who are working on a project, book or business and it's taking longer than you expected. As Lisa explained, it's important to stay focused on your goals no matter how long it takes.
Enter to win a free hardback copy of My Mommy's Water Balloon valued at $16.95 by 11:59 p.m. EST Monday, December 5th. A winner will be chosen randomly and announced on this post.
(Congrats Shari Perkins for winning!)