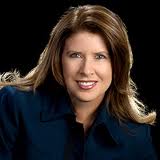 Maria Bailey is an incredibly busy mom and business woman. I was quite surprised she had time to take a break from her talk shows (Mom Talk Radio and MomTV) and businesses (Blue Suit Mom and BSM Media) to do an interview with me via Skype.
After we overcame some technical difficulties, I had a great conversation with Maria where we discussed
how to maximize your time as a work at home mom (WAHM)
how to prepare for an interview with a news reporter
the topic of her speech at next week's Moms in Business Unite conference in Atlanta on May 19th
Maria has written several books with moms in mind including
Trillion-Dollar Moms: Marketing to a New Generation of Mothers


Mom 3.0: Marketing WITH Today's Mothers by Leveraging New Media & Technology.
The Ultimate Mom: Uplifting Stories, Endearing Photos, and the Best Experts' Tips on the Toughest Job You'll Ever Love
Learn more about her books from trusted retailer, Amazon.com:
<