Pro Martial Arts asked me to share this information about its ARMOR®  to combat bullying and protect children from predators. In 2014, we enrolled in the Little Rhinos" martial arts classes. Check out the photo album I created at the bottom, but first – learn how to prepare your child for bullying.
As parents, we do the best we can whenever we can. We are mindful of what our children eat; of how much sleep they get; that they are bundled up on the colder days; and that their gap-tooth smiles are brushed at least two times each day. But what happens when the smiles become few and far between?
Could it be the dreaded "B" word? Is it a Bully?!

Often times, it has nothing to do with the parenting – and everything to do with your child's personal character growth that is affected by experiences at school, on the playground and in the classroom. PRO Martial Arts  is a resource for parents with children dealing with self-esteem and character development hurdles. Its all-encompassing curriculum exercises mind, body and safety-providing children that are subjected to less-than-kind words in the hallways and on the playground with the proper methods to stand-up to bullying.
Designed by child psychologists, educators and law enforcement officials, ARMOR® is a program designed exclusively for Pro Martial Arts. ARMOR students are provided the competencies to identify bullies and the proper steps to take to avoid falling victim to the intimidation. Children are taught how to carry themselves with confidence; how to set and respect personal boundaries, and how to be assertive when seeking help.
Students in the ARMOR® program learn that the real safety issue doesn't always lie with strangers, but with STRANGENESS. Children grow to recognize how important it is to listen to their instincts and why they should always tell a trusted adult about their uneasy feelings. Students walk away from the program aware of appropriate and inappropriate adult behaviors and the importance of good communication between them and their parents on a daily basis.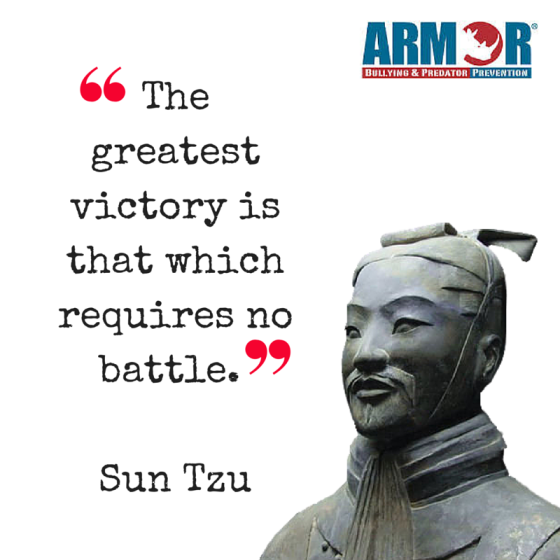 According to the American Academy of Pediatrics, more than 6 million kids in the U.S. take some form of martial arts classes. Although it might seem that these programs are primarily physical, Martial Arts classes can help children develop the concentration, self-control and focusing skills that can even help mediate behaviors associated with ADD/ADHD.
"We feel that what we are doing is shaping a great world, piece by piece, when we hear stories from parents and students about how they went from being unfocused and struggling with grades, to becoming more self-disciplined with schoolwork, their chores at home, and pulling those straight A's!," said PRO Martial Arts owner Dan Drahushuk . "We're passionate about helping our students grow on and off our mats."