I am not an extreme couponer by any stretch of the imagination. But I use coupons every week to drastically cut my family's grocery bill.
I thought my coupon system was pretty organized until I met Coupon Carol in Atlanta. She introduced me to the Coupon Clip and File she created. It's the ultimate coupon organizer that's easy to carry and separates your coupons into every imagineable category so they're easy to find.

Keep reading!
I'll show you how to organize coupons with the Coupon Clip and File
I'll share some of my amazingly cheap shopping trips.
Make sure you attend a Facebook event where Coupon Carol answers all of your FAQ's about how to drastically cut your grocery bill.
How to organize coupons with the Coupon Clip and File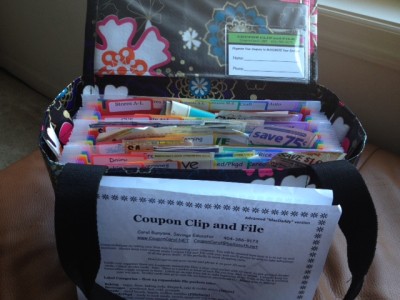 My previous coupon organizer was pretty flimsy. I admit – I paid just $1 for it at Target.
Then I met Coupon Carol at Parents Palooza and I had a "Coupon O" (use your imagination) when I saw how many categories her coupon organizer included. She's thought of everything!
When my Sunday paper is delivered I grab by Coupon Clip and File, the Smart Source and Red Plum coupon inserts and my scissors. I clip and organize the coupons I know I'll use – for detergent, paper towels, cleaning supplies. Then I organize them by category in the Coupon Clip and File Advanced Extreme Edition (value: $39.95) . I take out each of the expandable file folders inside so it's easier to reach all the categories.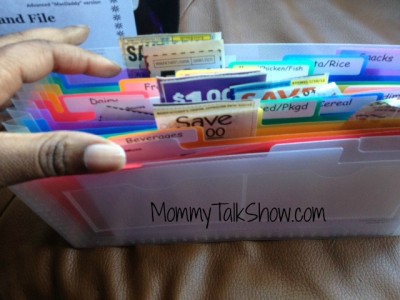 Take a closeup look at the Coupon Clip and File. It includes a pouch at the top to stick pens, lists and the ever important ID card! Take it from me. I lost my coupons one day and I was devastated!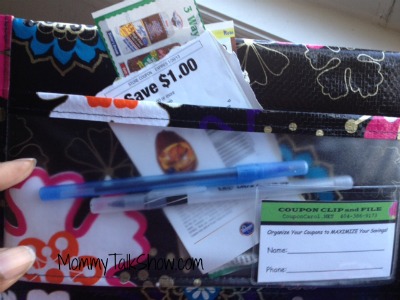 Coupon Carol also thought of the drug store, grocery store, restaurant and automotive coupon categories!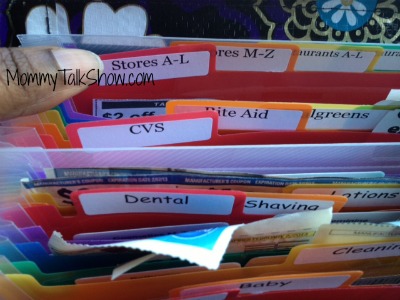 My CVS shopping trip where I spent 40 cents!
I don't have a stockpile of canned goods and toothpaste, but I do save money on the things our family uses a lot.
For instance, on my last CVS shopping trip I bought All Free & Clear Detergent and Listerine for just 40 cents!
How'd I do it?
Both All & Listerine were on sale.
I had $2.99 Extracare Rewards coupon.
I stacked my coupons – that means I used a manufacturer and CVS coupons on the same item! Check each store's coupon policy to see if you can do this. Some stories, like Publix, will accept a competitor's coupon. I've used Kroger coupons at Publix to save!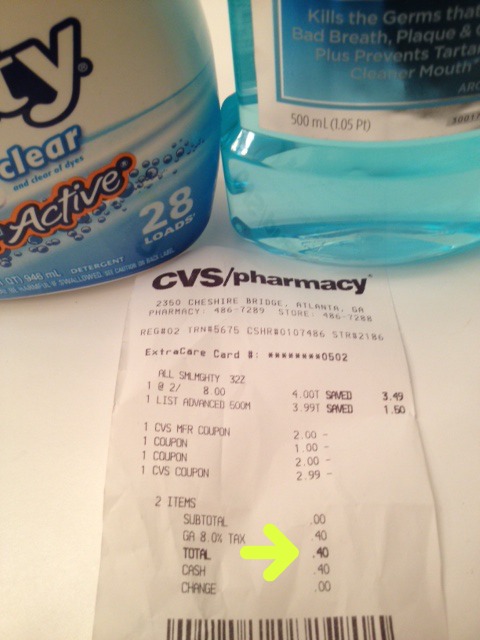 1/25 Facebook chat at 9 p.m. EST
Join us on the Mommy Talk Show Facebook page at 9 p.m. tonight where Coupon Carol will answer all of your questions about how to find and organize coupons. Don't worry if you miss the live event. I'll post a link here so you can catch up on her coupon expertise.
Disclosure: I received a complimentary Coupon Clip and File for an honest review.
Coupon Carol sponsored the Facebook chat to share her expertise with moms.