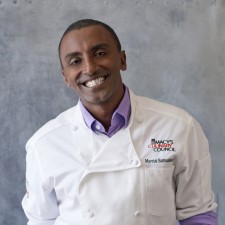 Just in time for Superbowl Sunday and all the food that goes with it, Top Chef Masters winner Marcus Samuelsson will visit Macy's at Lenox Square Mall Saturday, February 2nd to share some winning recipes.
I'm not a "foodie," although I like to eat.
But my husband watches a ton of cooking shows and competitions.  So he knows Samuelsson from his win on Season 2 of Bravo's Top Chef Masters.
Saturday Samuelsson will share recipes for appetizers and foods your Superbowl crowd will love. It's presented by Macy's Culinary Council to bring culinary professionals like Cat Cora and Wolfgang Puck to stores and share their expertise.
Date & Time: Saturday, February 2nd at 2 p.m.
Location:  Macy's Lenox Square Home Department, Level 3
RSVP: Seating is limited, so call 305-577-1818 ASAP
Bonus: With any purchase of $35 or more from the Home Department, get receive a $10 gift card and a copy of the Macy's Culinary Council Thanksgiving and Holiday Cookbook- signed by Chef Samuelsson.
Do you have any questions for Chef Samuelsson I can ask for you while I'm there?
I'm going to ask him about his New York City restaurants that I'd like to visit on my next trip home.
Disclosure: I'm a member of the Be Everywhere Society and was
compensated for my time to write this story. All thoughts and opinions are my own.