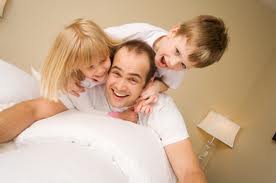 As a stay at home mom I sometimes assume I know what's best for my 14 month old son, A.J., since I make all his meals, change him, wash his clothes, take him to pre-school and make all his doctor's appointments. I'm proud to admit I'm wrong. I'm learning what's often best for him is to spend time with someone other than me.
It's comforting to see my son have fun with his Dad, his pre-school teacher and family friends. In fact, it's a welcome break to being with him 24/7. So I decided to ask the mommy guests how they feel about when their little ones have fun with their dads, grandparents or caretakers.
Me and Shari Perkins of Davey Cakes Clothing answer first in Part I:
Check back here Friday to watch Aimee Brittain of The Coupon Diva and Cathy Hackl of CathyPrMom on Twitter answer the question.
This webisode was sponsored by and taped on-lcation at Return to Eden Organic Market in Atlanta.