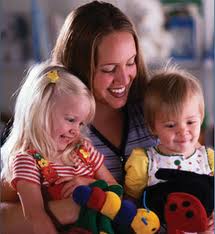 Even as a WAHM, I just hired a nanny to help keep A.J. entertained for a few hours one day a week so I can handle my workload better and cook dinner without him attached to my legs. It's good for him because the nanny is someone he already knows and she's got tons of energy! So they play and laugh all around the house at a time when my energy level is dwindling.
That's one of the reasons I asked the mommy guests this question. Me and Shari Perkins discussed how husbands and grandparents are some of the people our children have fun with in Part I.
In Part II, Aimee Brittain talks about the special friendship between her boyfriend and her daughter. Plus Cathy Hackl discusses her husband's skills and what she learned from her nanny.
Learn more about this group of guests:
Shari Perkins, Creator Davey Cakes, Onesies & T-shirts packed in cupcakes
Aimee Brittain, The Coupon Diva, Saving Money All Over Atlanta
Cathy Hackl, @CathyPrMom on Twitter, PR Specialist & Writer