Disclosure: I received a Family Dollar Gift card to purchase items to host this product swap party. All opinions are my own.
As a blogger and beauty/hair product junkie, I have way too many products sitting under my bathroom sink and inside my linen closet that I just don't use.  Maybe you're a blogger who receives samples, got gifts you didn't use or used to sell products yourself  and you're in the same boat. So I decided to host an event to allow my girlfriends to swap what we don't need  – for products we'd like to try. Would you like to do something similar? Here's how to host a product swap party.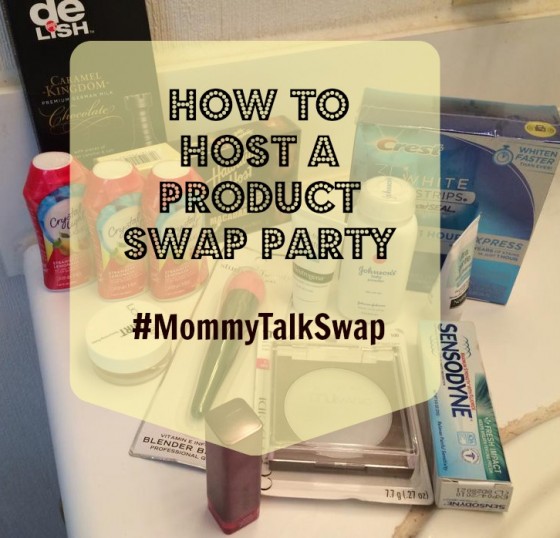 Pick a theme.
A Product Swap wasn't my original idea because I wanted to swap kids clothes first. That's on the backburner for now or maybe I'll host kids clothes swap before school starts. But since I have mostly beauty products samples (hair and makeup) I thought that would be a great theme. Turns out, I was right and my guests loved it.

Invite friends.
I created a Facebook invite to spread the news about the event and updated it regularly. I also posted a photo in the event of my product haul that I planned to swap. That got a lot of attention and comments. The ladies I invited were inspired to start digging in their closets and below the sink for products they weren't using.
Organize Items
Thanks to Family Dollar, I found these colorful, sturdy bins to organize the items my guests brought to swap. Beauty products, health, food samples along with jewelry and miscellaneous items were placed in each bin. I identified them using index cards and sharpies that cost about $4.00 at Family Dollar.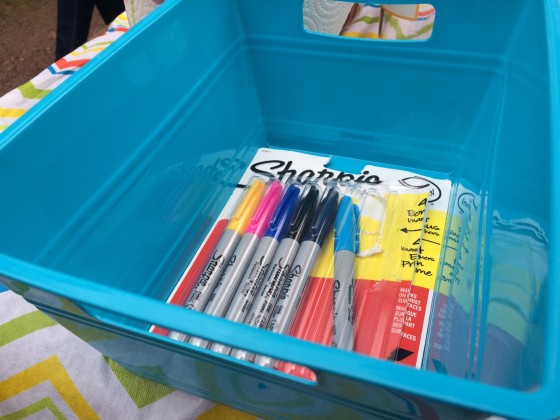 Serve Food
No party is complete without food and in the South that's a given. A few of my guests brought wine, which I appreciated. But for those looking for a non-alcoholic option, I made fruit-infused water. Family Dollar had the perfect pitcher and cup set to serve it, along with a colorful table cloth. Get even more hosting ideas when you follow @MyFamilyDollar on Twitter.

Set the Rules
Honestly, I wasn't a stickler for this. But the rules made it fun.  First, I let my guests take a few minutes to look at all the organized items so they could strategize what they wanted to pick from the swap.
Then, I mixed together a random swapping order with the ability to "steal" a product someone had already swapped (a la White Elephant party). It kept the guests on their toes and actively involved in the swap.
Finally, it turned into a free for all. I let the ladies pick whatever they wanted that was left from the first two rounds of swapping.
I got cleared out, grabbed a few Aveda products that I wanted and now I have items to donate to a local women's shelter.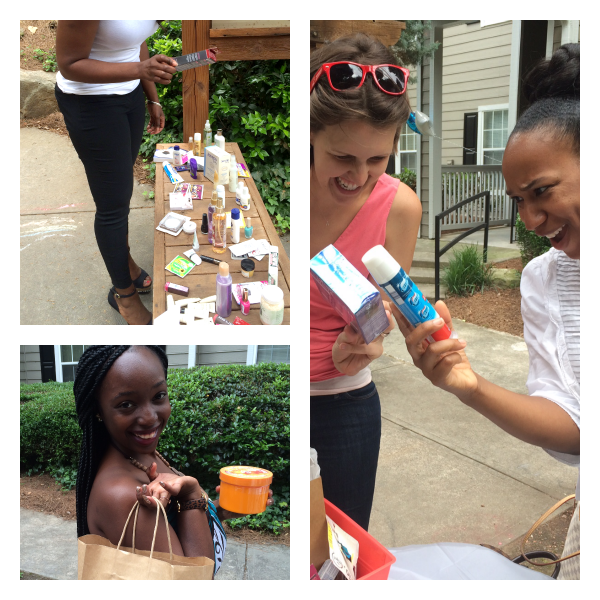 Get Feedback
I didn't do a formal survey, but I got great feedback from my guests. They enjoyed getting rid of things they didn't need and they enjoyed socializing.

Swap Ideas
Encourage your husbands, partners and brothers to swap too. What guy doesn't have sports equipment or tools lying around that he hasn't used? It could help clear our your basement or garage!
Talk back to me in the comments: Have you ever hosted or attended a swapping event? How'd it go? Would you do it again? Do you think these events are worth it?