Guest Appreciation Day is Thursday, September 6th
With all back to school madness, Cici's Pizza wants to give your family a tasty break on September 6th with a $2.99 pizza buffet. That's $2 off the regular price for endless pizza, fresh salads and oven-baked desserts. Add $1.69 for a fountain drink.
This is a nation-wide event at 550 Cici's Pizza locations around the country, but call ahead to make sure the restaurant closest to you is participating.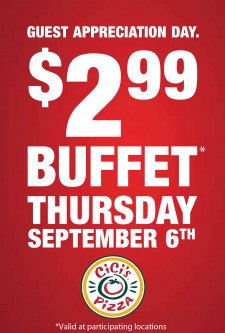 Here's where I'll share my first time experience at Cici's Pizza, some helpful tips for your next lunch or dinner visit (especially if you've got food allergies in your family) and you can read other moms who are supporting Guest Appreciation Day September 6th.
"At CiCi's, we have families too, and we know how busy and expensive back-to-school can be. There's no better time to say thank you to the families that make our communities great," said CiCi's Pizza Chief Marketing Officer Nancy Hampton. "CiCi's offers everyday value for dine-in and To Go family meals or team and club gatherings, and Guest Appreciation Day is just one more way we can help our guests during this hectic time of year."
My first Cici's Pizza Visit
I've seen the commercials a gazillion times, but sadly I've never eaten at a Cici's Pizza restaurant until this week. I was pleasantly surprised by the 28 types of pizza it keeps in rotation, the fresh salad, dessert pizza and the brand new garlic knots.
The atmosphere at the Decatur Cici's Pizza location I visited was as family-friendly as you can get. Everything is casual, kids are everywhere, including the home schooling group having a meeting that day.
This is the perfect place to bring A.J. for lunch or even stop by after a play date. (More about what he'll eat due to his allergies in a minute.)
Did you know if your favorite type of pizza, mac & cheese for example, isn't available on the buffet you can request to get a pipin' fresh one delivered to your table? Imagine how cool your kids will think that is.
Got gluten or milk allergies?
All of the ingredients at Cici's Pizza are nut-free.  For diners with gluten allergies, Cici's Pizza will make you a personal crustless pizza by request. How cool is that?
Since A.J.'s is allergic to milk, I also plan to order him a cheese-less pizza when we head back for Guest Appreciation Day on September 6th.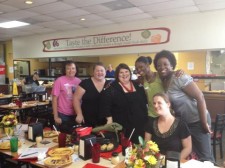 Connect with Cici's Pizza
Check out the Cici's Pizza Menu
Raise money for your school, team sport or club with Cici's Pizza fundraisers
Follow Cici's Pizza on Twitter
Disclosure: Cici's Pizza invited me and other moms who blog about parenting
to attend a Lunch & Learn event.