Watch Live Spreecast Tuesday, 9/4 at 9 p.m.
Thanks for tuning in. You should be able to watch the live event in the player below.
If you'd like to tweet about the event, please use the hashtag #MommyTalkShow
(In case there are any technical issue, here's the direct link to the Live Spreecast: "The Reality of a Multi-Tasking Woman")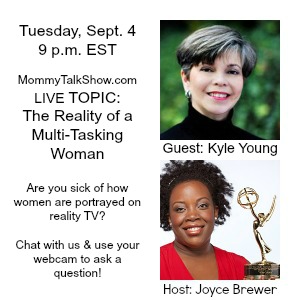 If you're sick of how women are portrayed on reality shows, you'll want to join in this live Spreecast conversation between me, Kyle Young of Never Too Busy to Vote and as well as anyone who's online. Got a webcam? You can appear on-camera and join in the conversation.
Our topic "The Reality of a Multi-Tasking Woman" tackles what women are really doing when it comes to family and business. We'll talk about stereotypical shows like the Real Housewives of Atlanta, Love & Hip Hop Atlanta and Here Comes Honey Boo Boo Child.
On a much more positive note Kyle's Never Too Busy to Vote movement is designed to get women to the polls in record numbers in November. Connect with her if you'd like to help get women in your neighborhood, group or community to throw out all their excuses about voting.