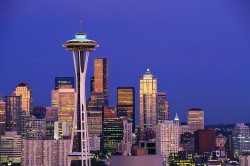 This is a guest post from the Alexandra Maxwell.
When considering which cities in the U.S. are the best for raising children, there are a number of factors to take into account.  Affordable housing, good schools, plenty of jobs, plenty of green spaces for healthy outdoor pursuits and recreation, and a low crime rate, will all make a city child-friendly. Other indications of a good quality of family life are good median wages and health, as well as museums, zoos, performing arts companies and parks.
Burlington, VT
Burlington ranks highly on any child-friendly city list due to its beautiful scenery and open spaces. Education is also good, with the schools spending more per pupil than many other cities.  Graduation rates are amongst the best in America and a higher percentage of the adult population have advanced degrees.  This in turn means that median wages are higher.  Burlington has the lowest number of fast-food outlets per capita of any U.S. city, which may account for its low levels of obesity.
Austin, TX
Austin has a warm, sunny climate and the city pools can stay open all year, providing plenty of recreational activities.  Austin scores well on health with plenty of farmer's markets, pediatricians, food co-ops and acres of parkland.  There are many cultural activities, including the famous South by Southwest music, film and interactive festival.  Employment also gets a tick with many innovators calling the city home.  Samsung, Google and Facebook have offices in Austin.
Honolulu, HI
Honolulu in Hawaii is a tropical paradise.  The city is the center of Hawaiian theatre, music and culture and boasts plenty of clean air, surf and sun.  Obesity rates are well below the national average, making Honolulu a healthy place to raise a family.  Here the economy is strong, powered by tourism, real estate, military and defense contracting.  The result is that unemployment is very low and, along with low property taxes and easy commuting, Honolulu is also a good place to work.  Honolulu has a low crime rate and fourteen of its public schools have received the Blue Ribbon School Designation for Excellence from the Department of Education.
Coral Springs, FL
Coral Springs, in the sunshine state of Florida, is a great place for families.  In Coral Springs the master planners were determined to keep the town young.  The result is a 182-acre sports complex offering plenty of children's recreation classes and dozens of parks.  Florida also has plenty of good weather and an amazing array of attractions for families, from Disney World to the Kennedy Space Center.  The income per capita in Coral Springs is also 17.3 percent above the national average.  Crime rates are also lower than the national average.  So, if you are looking for Florida property for sale why not consider Coral Springs?
Seattle, WA
Seattle is one of the most literate cities in the USA.  Seattle is well known for its rainfall, but all that rain leads to lush green vegetation and plenty of fresh local produce, and when the sun does come out the weather is mild.  The city has almost 5.500 acres of park, giving it plenty of space for healthy recreational activities, and is also home to companies such as Amazon and Starbucks, which fuel the local jobs market.  Expectant parents will like the fact that the state of Washington has extended the Family Medical Leave Act to include businesses employing eight or more workers.