I wish I was the type of Mom whose house was tip top clean year-round. But I'm not. This opportunity to review Soft Scrub Total All Purpose Bath and Kitchen Cleanser came at the right time because my Mother was coming to visit before our son's third birthday. There's also $1,000 Soft Scrub sweepstakes and a giveaway I'm hosting.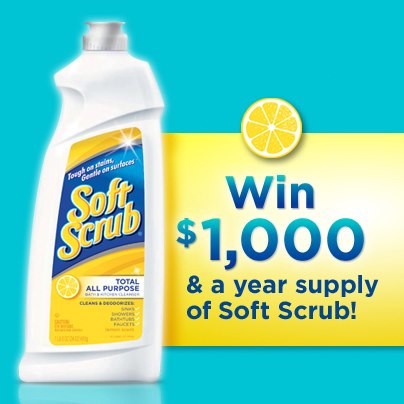 First task – our master bathroom. Although my Mother would primarily use A.J.'s bathroom – you just never know when she'd come in looking for fresh towels or mouthwash.
So I took all of the items off of the sink/counter wet a sponge, squeezed some Soft Scrub on the surface and started scrubbing. After a few rubs, the grime and toothpaste residue came off easily. No harsh smell. Just fresh lemon scent. I rinsed the sponge and wiped it clean one last time to see a sparkling clean bathroom sink/counter.
Soft Scrub's New Formula
A new improved formula is designed to whiten better and leave less residue behind. There's also a newly designed bottle and cap so the liquid won't spill. You can buy Soft Scrub in the household items aisle of your grocery store or drug store. For moms who like to order online or buy in bulk, Soft Scrub is also available on Amazon.com.
Enter Mommy Talk Show's giveaway by 3/31
Disclosure: I received complimentary Soft Scrub Total All Purpose Bath and
Kitchen Clean to share my honest review.