I's Valentine's Day week! Did you got a reminder from your child's teacher to bring in gifts or keepsakes for the entire class?  I don't like to give out candy as gifts for this sweet "holiday." We also celebrate the Teal Pumpkin Project for an allergy-free Halloween, so off to Pinterest I went and found some hilarious Valentine's Day printables for classmates and teachers. Our son's kindergarten class loves to laugh and make jokes. What better to way to make that happen?
To be honest, it took visits to a few stores to get it done – just because I waited until a few days before Valentine's Day to shop. Otherwise, I could have found the treat bags on Amazon.com. Instead I stopped at
– Target
– Dollar Tree
– Party City
– Michael's
Once I gathered all the supplies for the Valentine's Day printable ideas, I double checked my ink supply on my HP PhotoSmart wireless printer and got out the class list to make sure we had everyone covered. Here are the adorable printables I found from my fellow bloggers. I'll show you there creation, a link to the directions, then show you how easy it was for me and A.J. to recreate them. Check back later this week because I'll be on the CBS 46 Show "Atlanta Plugged In" explaining where to find the best printables. Tweet this message if you'd like others to tune in.
Watch: Valentine's Day Printables on CBS46
CBS46 News
I Spy My Valentine
I recreated the I Spy My Valentine's Day Printable from Making of a Mom. I found the miniature magnifying glasses at Party City.  Here's her version: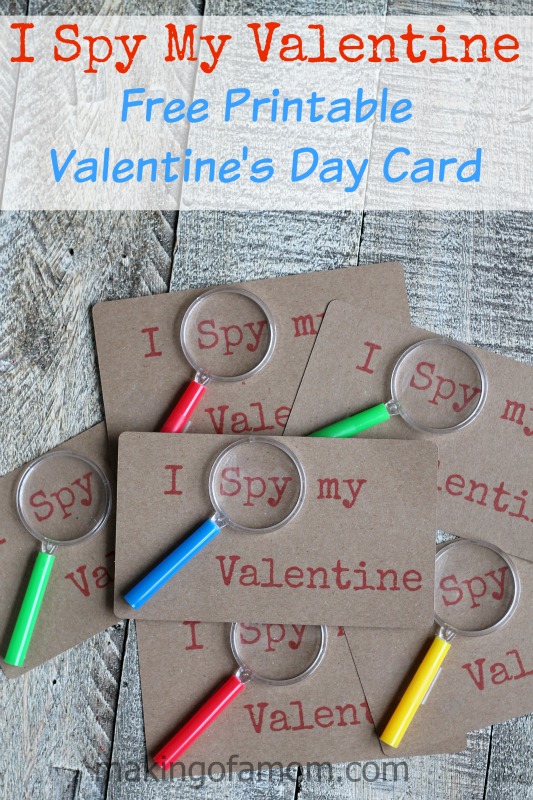 Here is the version A.J. and I created once he got him from school. With the cold weather and afternoon snow, it was the perfect after-school activity. With a piece of tape to attach the glass to the card, he could practically do this craft by himself.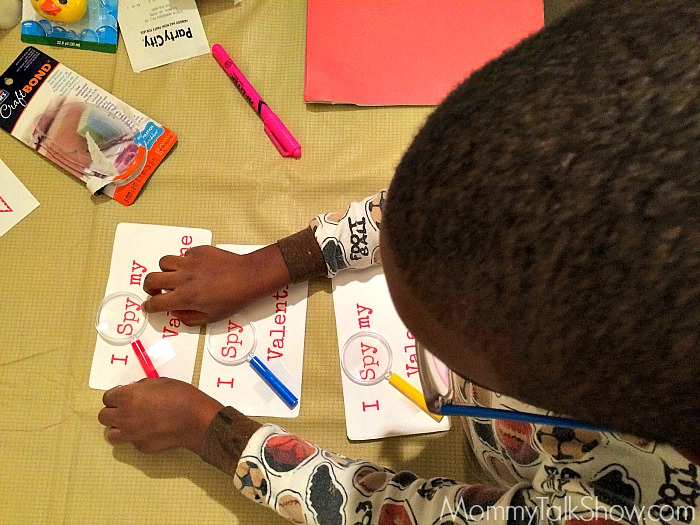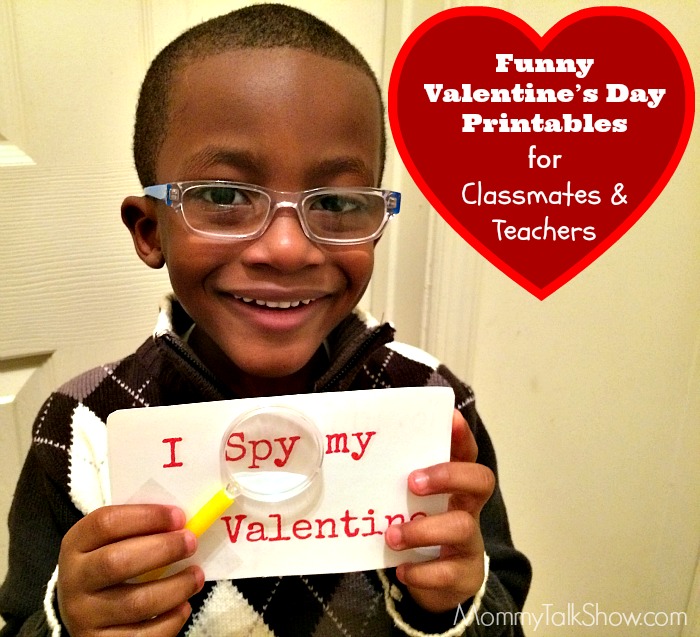 Rubber Ducky
I had to put a spin on the Rubber Ducky Printable Amy made over at As the Bunny Hops. I couldn't find rubber duckies for the bathtub anywhere and I was just about to give up.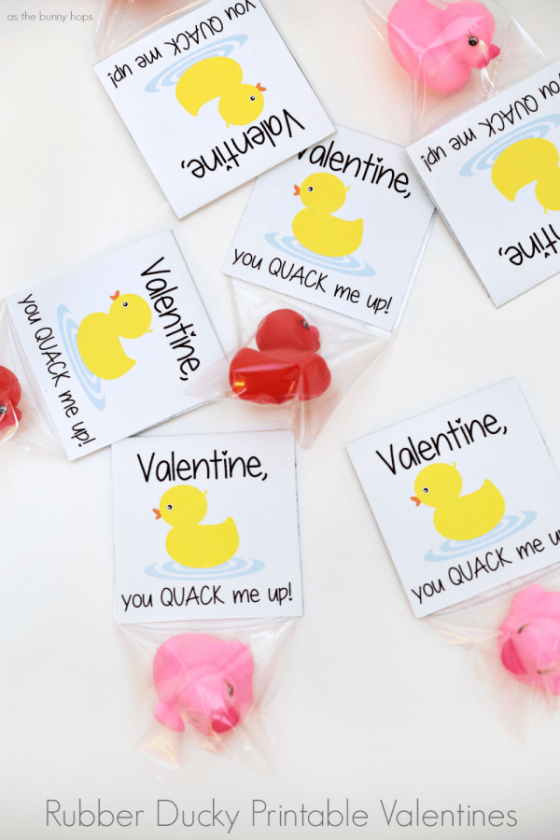 Then I found these duck-themed dental floss and figured they would make a fun replacement. Considering how important dental health is and that I'm still recovering from A.J.'s $300 dental bill for his first filling, I thought parents wouldn't mind getting these sent home.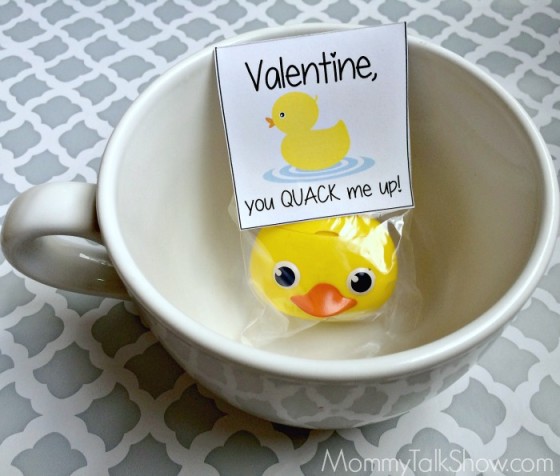 Pencil Toppers
We go through pencils like crazy around our house. Whenever it's time for A.J. to do his homework, we're scrambling for pencils when I know I bought about 100 at the beginning of the school year. I found this Pencil Topper Printable at Press Print Party and I thought they were very cute for his kindergarten class especially since they're working so hard on writing letters.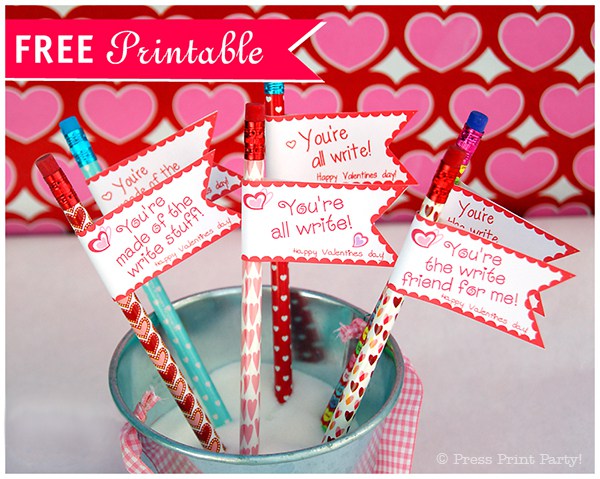 These were by far the easiest to make since I grabbed a pack of pink and red pencils at Dollar Tree, printed them, cut them out, let A.J. label them and we wrapped each tag around each pencil.
You're the Balm
These are perfect for teachers because of all the hard work they do. Let them know: "You're the balm!" Also, give them an organic lip balm that comes in handy when they're waiting outside with your little ones at the carpool lane. Rebecca from Simple as that Blog created these adorable gift tags for EOS organic lip balm to give as gifts.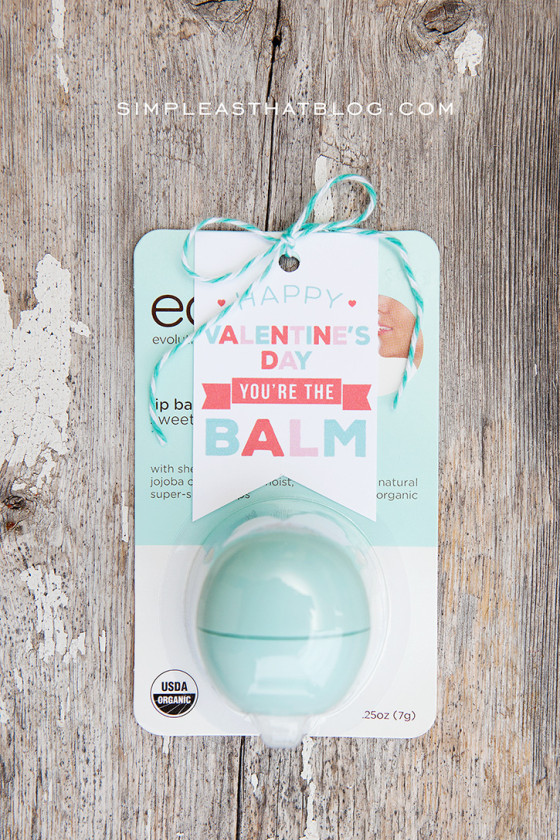 A.J. has two co-teachers in his kindergarten classrooms who he adores and will get these Thursday before the February break!