In my opinion, the drive to make your child as "smart" as possible, leads parents to do some silly, unproven things like buy the "Your Baby Can Read" DVD set.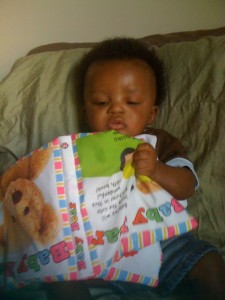 A.J. has been "reading" since he could hold a book himself. Often he'll walk away from a toy he likes to go sit down in his room and grab a book. Even though he clearly has an interest in reading, I won't buy "Your Baby Can Read" because I don't think it works. There's a huge contradiction between pediatric experts who don't want children under two to watch TV, while "Your Baby Can Read" promotes the idea of them watching hours of DVDs to learn to read.
The Today Show has been investigating criticism about the so-called early reading system. MSNBC reports:
The Campaign for a Commercial-Free Childhood recently filed a complaint with the Federal Trade Commission alleging that "Your Baby Can Read" uses deceptive marketing to get parents to buy its DVDs, flashcards and other materials.
Here's one of the latest reports:

Visit msnbc.com for breaking news, world news, and news about the economy
Disclaimer: There's a good chance that Google Ads or another ad network will post advertisements to "Your Baby Can Read" based on the search engines finding this topic. Again, I won't buy this system but you're welcome to do your own research.