Get 20% off any purchase at CafePhysique.com before July 13, 2012.
Promo code: MommyTalk20
Can not be combined with other offers!
Week 3 Check-In
I was bummed about not losing any weight last week and figured that my failure to exercise regularly probably played a huge role.
Check out this week's Fitness Friday video to see if things changed this week and how you can get some expert nutrition and wellness advise on the Mommy Talk Show Facebook page tonight (6/22) from the mom of 2 who owns Cafe Physique, a mobile fitness company in Atlanta.
Discount offer from Cafe Physique
Get 20% off on any purchase for online nutrition, personal training or pilates/yoga at your home, office or neighborhood park by July 13, 2012. This cannot be combined with any other offers. Use the promo code: MommyTalk20
Did I lose any weight?
Yes! Exactly two pounds from 207.8 to 205.8! Gotta say it feels pretty good to down a total of four pounds since I started. Besides hitting the gym more often this week, I also ate out less. So I don't have any restaurant photos to share.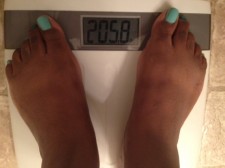 Next week on Fitness Friday
I'll show you what it was like to use the Cafe Physique online nutrition plan, create meal plans and get a grade (A-F) for my meal choices.
Feature your healthy business on Fitness Friday
E-mail [email protected].
Dislcaimer: I was compensated for this by Cafe Physique.
All thoughts & opinions are 100% my own.