Get 20% off any purchase for personal training, online nutrition
or prenatal/postpartum nutrition & exercise
at CafePhysique.com before July 13, 2012.
Promo code: MommyTalk20
Can not be combined with other offers!
Week 2 Check-in
I wish I could say this week was easier than the first week of Fitness Friday. But it wasn't. It was hard to fit in a workout when I stay up until midnight working and wake around 5 a.m.  so I have at least an hour to myself before A.J. wakes up. But I managed to walk Piedmont Park with another mom in my playgroup. A.J. and I also took a stroll around our neighborhood. It's pretty cool to hear him say, "Let's go on a exercise, Mommy!" or do a two year old's version of a jumping jack.
What's consistent is that I accepted I can't do it all alone. I need to be accountable to someone. It helps to know every Friday I have to face the scale and my video camera so I can share my progress with you. This week's sponsor is Cafe Physique, a mobile fitness and nutrition service in Atlanta. From the comfort of your home, the trainers and nutritionists can help you need to get fit. Watch the video to hear what Cafe Physique is offering for free then scroll down for a special discount offer.

Get your free meal planner & discount offer from Cafe Physique
For a free meal planner visit the Cafe Physique site, scroll down and look in the bottom right corner for "Get Your Free Meal Planner Here." Enter your e-mail address and you'll receive the free meal planner in a few minutes. Follow Cafe Physique on Facebook and Twitter for more wellness expertise.
Get 20% off on any Cafe Physique purchase for personal training, pilates/yoga, nutrition or wellness by July 13 30, 2012. This cannot be combined with any other offers. Use the promo code: MommyTalk20
Next week on Fitness Friday
Get expertise on your weight loss journey from the mom of two who owns Cafe Physique in an online Facebook event.
Did I lose any weight?
Nope. I gained. Last week I was 207.6 and this week I'm 207.8. It's a little discouraging, but it's better than gaining an entire pound.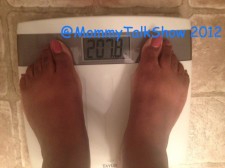 Part of the problem is I had a few more carbs this week. I ate an entire box of Kashi Go Lean crunch cereal with fresh fruit.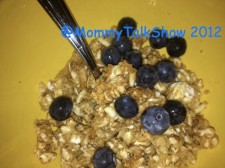 When my husband and I enjoyed dinner out at Leon's full service in Decatur. I enjoyed a gyro and spring salad. But I also nibbled on his french fries.
See you next week. My goal is to lose at least one pound and use the Cafe Physique online nutrition program to help make better meal choices.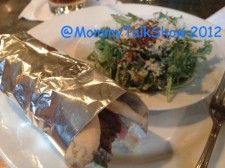 Feature your healthy business on Fitness Friday
E-mail Joyce@MommyTalkShow.com.
Dislcaimer: I was compensated for this by Cafe Physique.
All thoughts & opinions are 100% my own.