Week #1 Check-in
Thanks to everyone for your comments here and on Facebook supporting my efforts to lose 10 pounds by my birthday in August. Week 1 of Fitness Friday didn't go exactly as I'd hoped. But I chose to take the slow and steady route with my food intake and exercise. Check out this video update to see what went well, what went wrong and the delicious meal my husband made for me this week.
Watching Calories at Restaurants
I like to eat out and thanks to "Fitness Friday" I made healthier choices this week. When I went to Chili's with a group of friends instead of getting the Triple Dipper (like I usually do) I ordered a Sante Fe Chicken salad and only ate half. The full salad has with approximately 670 calories according to the Chili's Nutrition Menu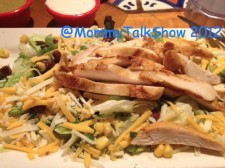 I skipped my usual white chocolate mocha from Starbucks with 260+ calories and a sausage egg & cheddar breakfast sandwich with 500 calories. Instead, I ordered a decaf coffee with Splenda and a Spinach, Feta and Egg White Wrap with 290 calories.