Tracking your daily food intake and progress is a great way to get control of your goal to live a healthier life.
Cafe Physique, a mobile fitness company in Atlanta, offers an online nutrition program designed to help you set nutrition and weight loss goals. Here's where you can enter to win a six month subscription (valued: $49.99). There's also a free app to use on the go!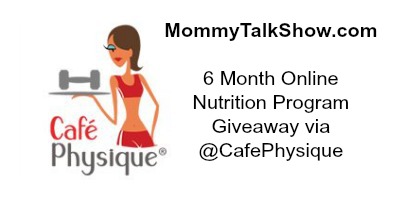 My Food Intake
Since the holidays ended my diet has not been balanced. I have to work hard on it since our family of three eats different foods at different times due to work schedules and A.J's food allergies. Like too many moms, I eat on the go or skip meals entirely. (I've skipped dinner a few nights this week).
Even though I've had access to Cafe Physique's Online Nutrition Program since November, I've only logged on twice. I didn't want to face all the things I'm doing wrong. But as a parenting talk show host/writer/blogger I owe it to you to be honest.
So today (Fitness Friday) I logged in and got started. I'll be logging in at least twice a week to check-in, look at suggested meal plans and track my weight.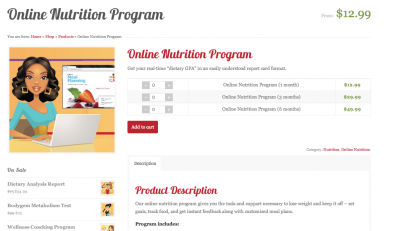 According to Cafe Physique, the program includes:
Guided goal setting
Daily food journal feedback in easily understood "report card" format
Detailed nutritional information & food database
Nutrition analysis for custom foods & recipes
Customizable menu plans for breakfast, lunch, dinner, and snacks
Instant personalized feedback on intake of calories, macronutrients (carbohydrates, fat, protein) and micronutrients (vitamins, minerals)
Specific suggestions for improving current eating
My Goals
When I started Fitness Friday in July 2012, I weighed in at 209 pounds and wanted to get down to 199 by my birthday in August. I was about one pound short of my goal. Maybe it was the pressure or some not-so-smart meal choices. But I was definitely more active during those nine weeks than I've been lately.
I'm happy to report, I am below 200 pounds now. I have a bigger goal, but I'll give myself even longer to reach it.
I set my goals on the Cafe Physique online nutrition program then logged into the Vitabot app on my iPhone. Here's how easy it was to install the app and update my info.
Do you think you'd use the Vitabot app or the online version?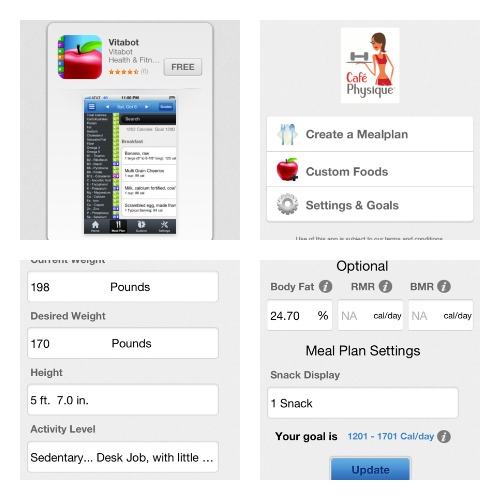 Enter to Win 6 Month Online Nutrition Program Giveaway
Follow all of the rafflecopter entries below:
a Rafflecopter giveaway

Use the social sharing tools below to Share, Tweet and +1 this post so your friends and followers will see it!
Disclosure: I received a complimentary subscription to the Cafe Physique Online Nutrition Program to share my honest opinion. All thoughts and experiences are my own.