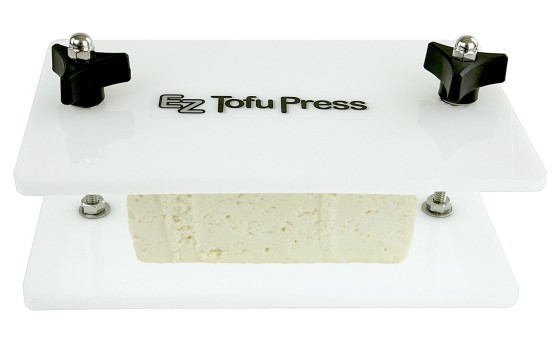 Since I'm not much of a cook, I'm always looking for ways to prepare my family's meals easier and faster. My friend Alix has been a vegetarian for decades and she loves it. I tried to go vegetarian for a week and was far from successful. It was my first time eating tofu in several frozen vegetarian meals and I was surprised by how flavorful it was. That's why I was open to the idea of partnering with EZ Tofu Press to share the product.
What is the EZ Tofu Press?
For vegetarians who prepared tofu at home, I didn't realize it took so much work until I heard about the EZ Tofu Press (retail: $19.99). It's a kitchen utensil designed to press the water from firm or extra firm tofu so the flavor and seasonings come through when you cook it. Yes, it's made in the USA with USDA approved high density polyethylene (HDPE) and BPA Free Plastic.
Did you know many tofu lovers waste time and money on paper and cloth towels to remove the water it's stored in for freshness? According to the creators, using the EZ Tofu Press helps you get the job done "in 15 minutes or less. Prep food and marinade while turning the knobs every two minutes over a 10-15 minute time frame."
Follow the EZ Tofu Press on Facebook for help using it, instructions and reviews. Find plenty of tofu recipes on the EZ Tofu Press Pinterest boards.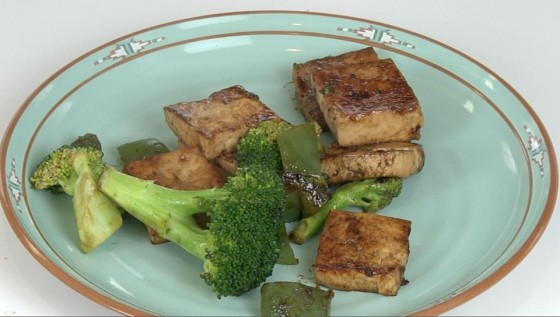 Rave Reviews for the EZ Tofu Press on Amazon.com
Packaged perfectly and it works just like I was hoping. Other tofu presses were $40-$60. Save your money… this one works JUST as good. I've already used it on 4 blocks of tofu in just 2 days…Tastes so much better than tofu that is not pressed. If you marinate in a teriaki for a few minutes then pop in the oven, it tastes like BBQ chicken. Great product! ~ A.R.

Just got my EZ Tofu Press, it works great…I was able to press my tofu while preparing the meal in about 15 minutes. No more stacking of cans on plates and wasting paper towels! They really need to sell these at the stores near the tofu because I didn't even know these existed. ~ A.B.
Buy the EZ Tofu Press online through Amazon where it's the #1 selling tofu press for the last three years.