UPDATE: This company is no longer in business.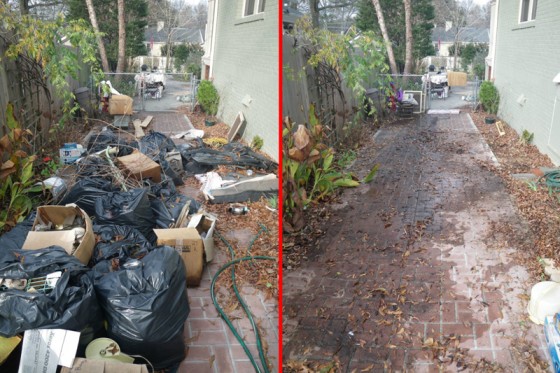 Think about that pile of junk sitting in your attic, basement or backyard that you wish someone would just haul away. Maybe you hoped to clear it out by the New Year and didn't get around to it. Here's an opportunity to work with a locally owned Atlanta-area company run by a work at home dad who would like to offer Mommy Talk Show viewers a discount to clear out the clutter. Read below to learn more TCB Removal Services (TCBRS) and the rave reviews for the owner, Zac (Isaac) Johnson.
TCBRS is a licensed and insured company has been hauling away unwanted rubbish from Atlanta homes, businesses and storage areas since 2009. For busy Atlanta families who would rather spend time together doing something fun instead of spending evenings and weekends clearing out the garage, TCBRS is ideal. It's convenient to have someone else do the work, plus curbside pickup in your neighborhood won't take everything. I've also heard at least one complaint from a mommy friend that when she called  a national 1-800 removal company to take away items from a deceased loved one's home, the rates were astronomical.
Whenever possible TCBRS will recycle metal, wood, cardboard, paper and plastic.
Here's what Ross B. posted on his Yelp review of TCB Removal Services –
TCB works like a charm. I cleaned out 11 years worth of "stuff" from my basement.. my neighbors thought I was being evicted.. Zac arrived on time, and within 30 minutes the HUGE pile of debris, junk, old golfclubs and boxes were gone. He's fast very reasonably priced and best of all ON TIME… My problem vanished in a instant. Highly recommended.
Mention Mommy Talk Show and receive 15% off trip fees and labor for rubbish removal before May 31, 2012. The average cost to have TCBRS clear out clutter or debris is $150, so you can save more than $20 with this offer. Call 678-439-JUNK (5865) to schedule your appointment today in the Greater Atlanta Area.
Follow TCB Removal Services on Facebook and  Twitter for more photos of before and after work.
Use the social sharing tools below to Tweet, Like and Share this story with a friend who needs to clear out their home, business or storage space!