Disclosure: I participated in an Influencer Activation on behalf of Mom Central Consulting for Blinkbuggy.
I received a promotional item to thank me for participating."
Blinkbuggy
I can see myself using a new mobile photography app and site, Blinkbuggy, to create photo albums of A.J.'s upcoming  milestones including: Summer camp, Pre-K year, five-year-old birthday party, violin or guitar lessons and swimming lessons. Let's say I miss a photo, but he says something extremely funny (like four-year-olds tend to do), Blinkbuggy also lets you write notes or quotes of your memories and organize them within the online photo album. Sign up for a free account by April 30, 2014 and you're automatically entered to win one of three 20-page print memory books.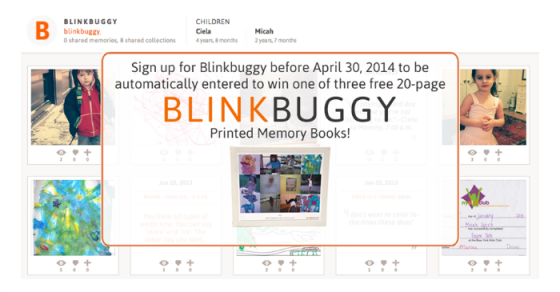 Organize Your Collection
I signed in and the desktop version of Blinkbuggy because I had A.J.'s fourth birthday party photos on my laptop that I wanted to use in a photo albim. I was able to drag and drop the photos to create a chronological order of what happened during A.J.'s birthday party at HippoHopp from the moment we walked into our private room to when our guests enjoyed the indoor playground. Here is a link to my Blinkbuggy Album (it's public!).
Privacy Settings
As parents, all of the control is at our fingertips on the privacy settings of the memories we share. Make them available to friends, family or the world if you'd like.
Comment below: Are there certain photo events you'd like everyone to know about or ones you'd like to share with a class or group?
Print from Blinkbuggy
For our family, all of A.J.'s grandparents are not tech-savvy enough to go online and see our Blinkbuggy. We all have the option to print a Blinkbuggy album through its partner MILK Tailor Made Book to create memory books, gallery frames and even folded cards to use for thank yous, invitations or announcements. Register for an account by April 30, 2014 and you can win one of three  free 20-page Blinkbuggy Memory Books.