We're in the market for a new vacuum and I'd like to spend about $100 (give or take a little). Do you have any vacuum buying advice for me? I've had this old Dirt Devil for about 10 years and it's at the stage were repairing is starting to cost too much. You can catch it on a good day where it will clean well. You can catch it on a bad day where it spits back all the dirt on your feet as you walk it around. It probably needs a new filter too. But in the meantime, I'm investigating what should be our next vacuum. So I decided to "Get Advice"  a new feature through Shop Your Way and Sears.
Vacuum Buying Advice
I visited ShopYourWay.com,  clicked "Get Advice" at the top of the menu and posted my question.
I also added the tags "upright vacuum" and "vacuum." I also made my question as specific as possible since we have multiple surfaces, carpet and floors in our home.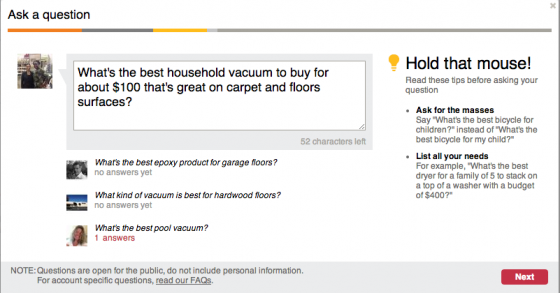 Since I also have the Shop Your Way app, about 20 minutes after I posted my question I received a text alert that Ron H. had answered my questions. He's a Sears Expert who directed me to a list of Sears upright vacuums.
You can interact with other shoppers too. Offer your advice. Rate the advice you see with stars. Help more busy families save time and money by getting the products that get the best results.
There are several reasons I'm considering using Shop Your Way through Sears  to buy our new vacuum. As a Shop Your Way Member I get notified about exclusive sales and promotions, while earning rewards towards future purchases. You may recall Shop Your Way is free for 90 days and offers two-day free shipping. I'd much rather have our new vacuum shipped to our home instead of buying it in-store, loading it in the car and up to the steps to our home.
Comment below: Is there a household product you're searching for where you need advice on its features or whether it's a good fit? Have you bought a product that you'd like to recommend to someone else?