I just attended an advanced screening of The Soul Man Season 2 starring Cedric the Entertainer and Niecy Nash. It gave me the chance to catch up on the show (I only watched the first two episodes last season) and meet actor Wesley Jonathan. Thanks to the screening and the Q&A with him, I think there are at least four reasons moms will laugh out loud watching this season. The Soul Man airs on TV Land Wednesday nights at 11 p.m. EST. Remember, you can also grab a Cedric the Entertainer comedy show DVD on Amazon.com.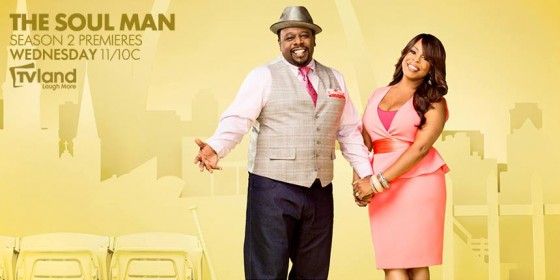 4 Reasons Moms Will LOL Watching The Soul Man Season 2
Cendric the Entertainer

. I've been a fan of his since the Kings of Comedy Tour. His standup is funny and he's finally getting an opportunity to shine as an anchor on his own show. Cedric's new and old fans won't be disappointed as they watch him portray former soul singer Boyce Ballentine turned reverend.
Real romance and humor. At the screening the audience of bloggers, writers and journalists all LOL'd at the verbal sparring between Boyce and his wife Lolli, portrayed by Niecy Nash. Scroll down for the funny video interview they did to promote the new season.
Shirtless young actor. Actor Wesley Jonathan plays Cedric's younger brother Stamps and takes his shirt off this season. In fact, I didn't intend to snap this picture of the scene in the screening when he's shirtless. But oh well. I asked Wesley if I can look forward to more of this and the answer was YES, although he doesn't want it to be something we expect each week. You may recognize Wesley from movie "Roll Bounce" where he showed off his roller skating skills.
Missing Actress. The Soul Man's daughter, actress Jazz Raycole is not returning for Season 2. So what's funny about this? All the creative ways the writers refer to her being away at boarding schools. It remind me of when shows like Roseanne, The Jeffersons and The Fresh Prince of Bel-Air replaced the actors with new ones. I remember how the writers found a way for the characters to state the obvious when Becky was replaced on Roseanne and Aunt Viv was replaced on The Fresh Prince.
The Soul Man Interview with Cedric and Niecy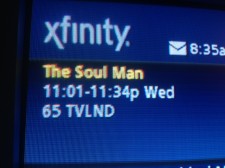 I just set my DVR to record The Soul Man each week. It airs at 11 p.m. when I'm usually watching local news. Plus it will give me something funny to watch with my husband on the weekends.
Will you watch The Soul Man's Season 2?
Did you know Cedric got the idea for The Soul Man after his guest appearance on TV Land's Hot In Cleveland?
Find more to laugh about on The Soul Man Facebook page.