Last week was pretty stressful for me and it seemed like every mom I talked to was going through the same thing. So I did a very informal poll on the Mommy Talk Show Facebook page to see if you wanted to read/watch stories on coping with motherhood and there was a resounding yes!
I don't want to make things too serious and have us all grabbing the Kleenex, so I thought I'd start the week with something funny: Mommy Brain.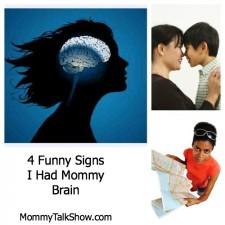 It's when your brain is so clogged with your to-do list, stress and lack of sleep – that it can't possibly function at 100%. So it starts to malfunction, like mine has recently.
Video: 4 Funny Signs I Had Mommy Brain
Comment below
Have you had any "Mommy Brain" moments? Were you embarrassed by them?
I'd love for you to tune in tomorrow when I give you some solutions to be a stress-free mommy.

Share, Like, Tweet it and Pin this story so your mommy friends can see they're not alone!