My husband knows I have a lot of hangups when it comes to clean carpet. When we met in Mississippi, I had light cream carpet in my condo. Guests usually walked in, saw how light it was and removed their shoes without me even asking. Now we're in an apartment with beige carpeting and our three year old who knows to take his shoes off as soon as we get home. Nevertheless, he still spills his food, paint, crayons on the carpet and my husband could be a lot cleaner too (hint, hint because I know he watches the show). At least three times a year I have our carpets professionally steamed to get out stains and high traffic marks. This weekend, I was introduced to Mohawk Flooring SmartStrand carpet that made me consider installing it when we purchase our first home so we can cut back on professional cleaning.
Keep reading for my experience testing the carpet, the video results and how you can enter to win a 6' X 9' SmartStrand Silk bound carpet rug.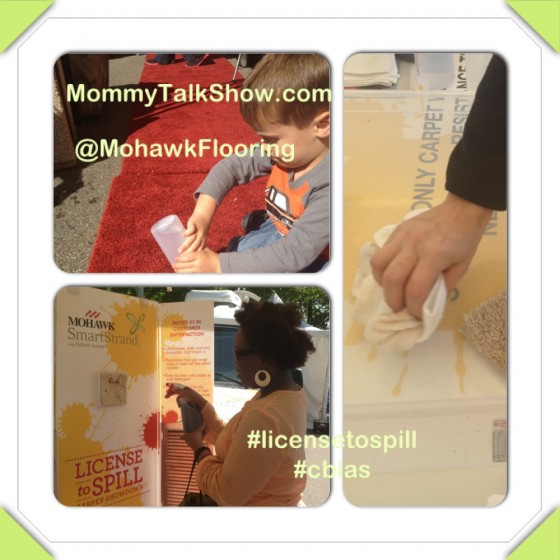 I stopped by the License To Spill display at Atlanta's Dogwood Festival where I met the Mohawk Flooring demo staff and the Better TV crew. We also had a quick bite from Smallcakes Cupcakery featuring Georgia Peach flavored treats. The Mohawk Flooring staff gave me a demo and answered my friend Nicole's questions about installing it in her basement. He explained that SmartStrand's stain protection is built into the fiber of the carpet, not coated with it, so it doesn't wear off for the life of the carpet.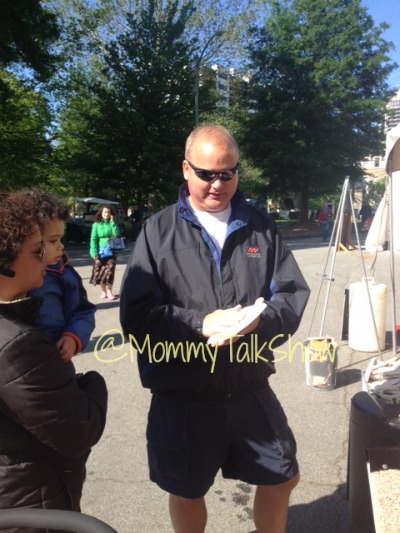 Then it was my turn to get down and dirty with a sample of the SmartStrand carpet in the "License to Spill station."
I sprayed wine on a sample of it, then a member of the crew added soy sauce, gatorade and blue PowerAde.
Video: SmartStrand Carpet Stain Test
Mohawk Flooring SmartStrand Carpet Giveaway
An area rug can protect high traffic areas and add some warmth if you've got hardwood or tile floors in your home. Enter to win a 6' X 9' SmartStrand Silk bound carpet rug from Mohawk Flooring. Where would you put the rug if you won?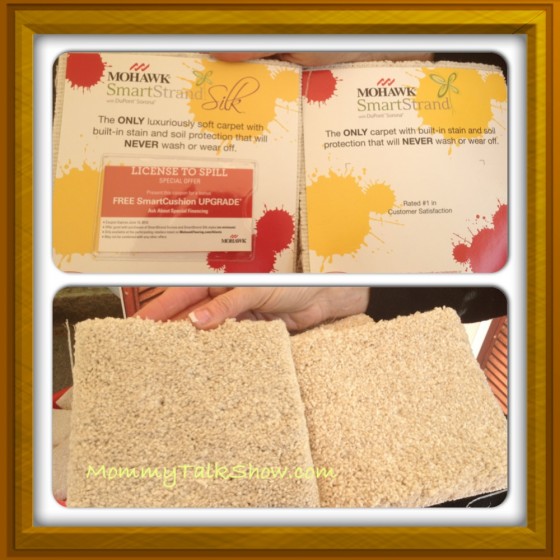 Mohawk Flooring National Tour Look for the License to Spill Tour in your town this spring. The crew is on a national tour through June 6, 2013 where you can see for yourself how tough the SmartStrand technology is when it comes to common household stains. Keep an eye on the Mohawk Flooring Facebook page. You'll see the License to Spill van at festivals and outdoor events.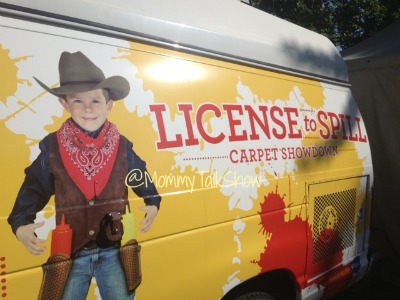 Your kids will love making a mess and seeing how easy it is to clean. My son had a runny nose and fever, so he stayed home. But Nicole's son and fellow blogger Daddy Mojo's son had a blast testing stains then cleaning them with water.
Disclosure: I am a member of the Collective Bias® Social Fabric® Community. This shop has been compensated as part of a social shopper insights study for Collective Bias® and Mohawk Flooring #cbias #SocialFabric #licensetospill. All thoughts and opinions are my own.