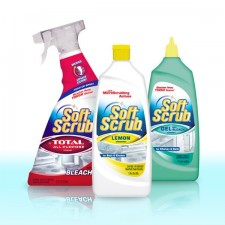 (This is part of 5 Fab Days of Giveaways
from 9/13-9/15. Good luck!)
Keeping our master bathroom clean is a bit challenging. We get a lot of build up in the bathtub and shower since we use a lot of shampoo, conditioner and body scrubs. I was also interested to see how well Soft Scrub Total worked on the bathroom sink (which my husband doesn't do the best job of rinsing out after he's brushed his teeth).
But I've got to my husband credit because he shaved this weekend and cleaned the sink before I could take a "before" picture of what it looked like. I can tell you when he was done, the Soft Scrub Total All Purpose Cleaner with Bleach did a great job cleaning, without leaving a heavy bleach smell.
Then my Mother came to visit and decided the clean the guest bathroom toilet. She used the Soft Scrub Total Bath & Bowl and said it was a breeze.
See the Soft Scrub Total Bottle Design
Soft Scrub $3,000 Tough & Gentle Sweepstakes
Enter to win the Tough & Gentle Sweepstakes with $3,000 in cash & gift cards.
Enter the Soft Scrub Giveaway by 9/23 at 12 a.m.
Three (3) winners will get one (1) bottle of Soft Scrub Total. You must live in the U.S. and  be 18 or older.
Disclaimer: I received complimentary Soft Scrub to review for my honest opinion. No other compensation was received.