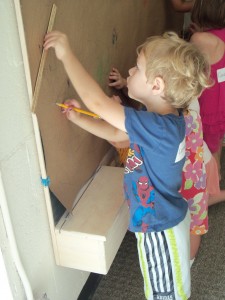 A new preschool, The Nido School, in Decatur will focus on creating a nurturing environment for young learners, while offering Atlanta-area parents flexibility. The school's mission is expressed in its name. Nido is the Italian word for "nest," a place for little ones that fosters growth and development.
Keep reading to hear how you can enroll your child at The Nido School, as well as watch a video overview of the new preschool featuring my interviews with the school's founder, director and teachers. They also explain how the school's emergent curriculum fosters discovery and flows with the students' interests. (Remember to share, like or tweet this story with Atlanta-area families you know who are looking for preschools.)
The Nido School opens in Fall 2012 within Bean Work Play Cafe, a co-work space for parents and a drop-in play space for kids.
Watch The Nido School's Video
The Nido School's flexibility
According to The Nido School's Facebook page, there are still spots available for 1, 2 and 3 year olds this Fall. Here is the enrollment information on The Nido School's website including the school's 2012 calendar, registration fees and tuition.
Parents can enroll their preschoolers in three month sessions at The Nido School for Fall, Winter, Spring and Summer. Tuition starts at $120 a month for a one day a week enrollment. Discounts are available for prepaid tuition for each semester.
To me what stands out is The Nido School's model of three month sessions that's ideal for families who
travel frequently and don't want to make a year long commitment to a preschool
just relocated to Atlanta
missed deadlines at other preschools
need  a short term preschool while they search for a nanny or caretaker
Acceptance letters for Fall 2012 were sent out in April. But you can stay up-to-date on The Nido School's Facebook page for additional enrollment information. Call Bean Work Play Cafe at 404-828-0810 to schedule a tour and ask questions about enrollment.
 Disclaimer: I was compensated for creating this marketing video for The Nido School.
All thoughts & opinions are 100% my own.