Thanks to this iDeaPLAY Tablet review, I now have my iPhone 4s back because A.J. had been monopolizing using it for his educational apps and games. I'd been investigating the tablet market for preschoolers and wasn't quite sure which direction to go. One friend bought her son a Kindle HD. Another friend's twins have Nexus tablets. I think iPads are too expensive for young children. Some of the other children's tablets I explored required a lot of accessories and expensive cases. When I got the opportunity to review the iDeaPLAY tablet, three features made it stand out from the crowd of tablets for early learners.
1. Affordability. The iDeaPLAY tablet sells for less than $150.
2. Durability. The iDeaPLAY tablet comes with a durable protective case.
3. Safety. It's compliant with the Children's Online Privacy Protection Act (COPPA) so children are not exposed to adult content or ads.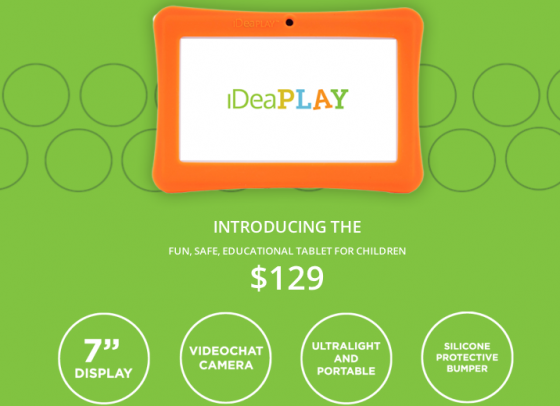 iDeaPLAY Tablet Review
The iDeaPLAY tablet is Android based with options for adults to use too. A.J. got his tablet Christmas morning. He opened it with my husband before I knew it, so I don't have a full step-by-step set-up experience to share. But they were able to set up the wifi and get online quickly.
Thanks to the iDeaPLAY Farmigo software, we have age-based options for the apps A.J. would like. So far, Shrek Forever After and Riptide GP are among his favorites. Here's a video of him enjoying some of the apps.
Buy the iDeaPLAY Tablet
You can purchase the iDeaPLAY tablet online at Amazon (retail: $129) and retailers like Best Buy.  The protective silicon bumpers (retail: $14.99) come in an array of colors, besides the standard orange. Since green is his favorite color I'd like to order that for his birthday.
The only drawback and recommendation I'd have for the iDeaPLAY tablet is to improve the battery life.  Perhaps it's because A.J. likes to play the Riptide GP jet ski game and it sucks up a lot of battery power. But when it's not in use, we keep it connected to the charger.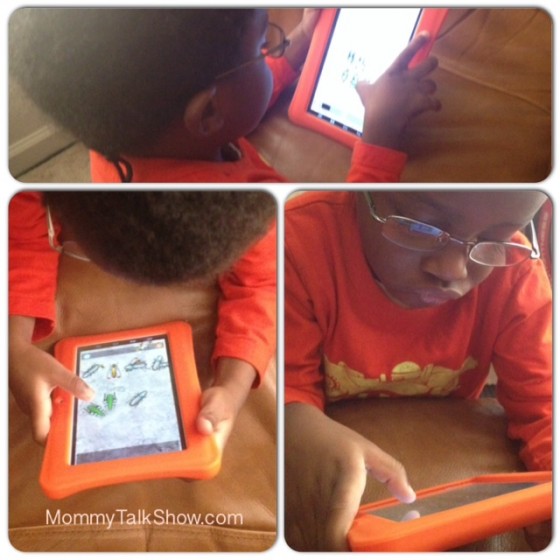 Connect with iDeaPLAY
Visit the iDeaPLAY website, follow @ideaplaykids on Instagram and @ideaplaykids on Twitter.
Comment below: What feature of the iDeaPLAY tablet meets your family's needs? Do you have any suggestions on how to limit A.J.'s tablet time? It's great that he wants to play games and learn, but I don't want him connected to electronic devices too much.
Next, we'll spend some more time reviewing the .3 megapixels camera and exploring A.J.'s photographic creativity.