One of my proudest moments as a parent is when A.J. reads a sign or menu out loud while we are in pubic and someone turns around with a "Did that little boy just read that?" look on their face. If they ask me how he learned to read, I simply say "When he asks us what something says  – we tell him." For us, it's been that simple. A lot of my personal Facebook friends know this already, but I wanted to make sure I share it with the viewers of my show. Yes, our 3 year old can read sentences and your child can too. Here's a video of him reading from ages 2 to 3.
3 Year Old Can Read Sentences
In the video A.J. read words from a worksheet I downloaded, a thank you note from his friends, a note I wrote him this past Christmas and a personalized book by Flatten Me entitled, "A Blessing for A.J."
So how does our three year old read so easily? Keep in mind my husband and I are both journalists. Communicating and writing are in our blood. I have a Master's Degree in Journalism and I've taught at two universities. Your background and experience may be different, but I hope what I share encourages you to develop a love for reading in your toddler.
I didn't realize A.J.'s reading abilities were so unusual until his pediatrician ophthalmologist pointed it out to me. Due to his drooping eyelid and myopia (near sightedness) he gets eye exams every six months. We learned he needed corrective lenses when he was about 18 months old. I told the doctor I shocked because he was already reading the alphabet with no problem. Two shocking statements from the ophthalmologist revealed my child was a little different.
Dr: "He's reading with his right eye."
and
"I've never had a child his age read the letters on the eye exam chart so easily."
Our nearsighted child was reading everything in sight and had a huge vocabulary before he turned two.
How usual are these reading skills for a child A.J.' age? Christina Lane is the co-director of A.J.'s preschool, New Morning Community Preschool. She also noticed amazing reading skills in her oldest daughter.  Christina told me, "At three she was given a set of Bob books from her Grandmother. When she asked me to read them to her I was shocked to see that she quickly memorized the couple of words included in the first book and could read it. We simply read the books at her request almost every evening and before I knew it she was reading! Now at five and half she's fluently reading chapter books. She loves to read which to me is the most important part. "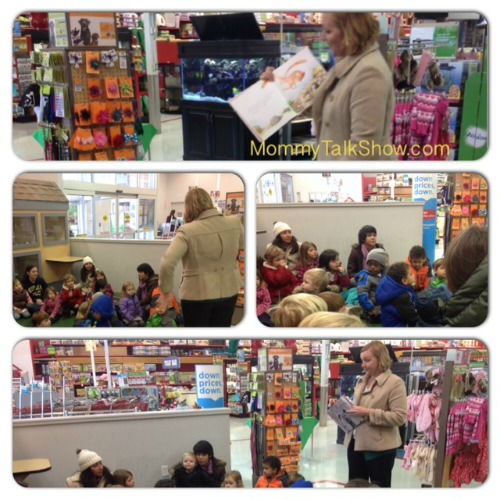 To put things into perspective Christina also pointed out that reading skills are not the norm for preschoolers. She added, "Most three year olds are not ready to read and some schools of thought even think it is harmful to teach a child to read too early. I believe that if a child shows an interest and has an obvious readiness as my daughter did then there is no harm in allowing a young child to explore their natural interest without drilling them and at their request. "
Tomorrow, I'll share with you how we helped develop this reading skills by following his lead. But I can tell you now it had nothing to do with flashcards or DVD programs like "Your Baby Can Read" (which has numerous FTC complaints). He enjoys personalized books like Flatten Me that allow a child to read their name woven throughout the subject of the book. We also reviewed a Flatten Me Water Bottle and T-Shirt with his photo on it.
Click to Tweet
Watch @MommyTalkShow (VIDEO) My 3 Year Old Can Read Sentences and Yours Can Too http://t.co/UYYpJlKkEX

— Joyce Brewer (@MommyTalkShow) January 9, 2014