This summer, we've spent a lot of time outdoor in the pool, at the splash pad, enjoying outdoor camps and exploring our new neighborhood. Every time we got outside for an extended period I make sure to apply sunscreen. Yes, as an African-American family we wear sunscreen.  Regardless of your complexion, any time spent in the sun can put your family at risk for sunburn and skin cancer. So I went straight to the Centers for Disease Control (CDC) for sunscreen safety advice. You can hear the dos and don'ts for purchasing, applying and re-applying sunscreen. Watch my video interview below, see the myths and truths about sunscreen – then use the social sharing tools to make sure more families see it!
WATCH: Children & Sunscreen Safety Advice from the CDC
Myth: SPF 100 is better than SPF 50.
Truth: The FDA says sunscreens with SPF 50 and above provide about the same amount of protection as SPF 50.
Myth: African-Americans and people with darker complexions are not at risk for skin cancer.
Truth: People with darker complexions also need sun protection and are at risk for skin cancer.
[Tweet "People with darker complexions also need sun protection and are at risk for skin cancer."]
Even as a dark-skinned African American woman, I got tan lines from sitting on the beach for a 30 minutes on the beach in Belize.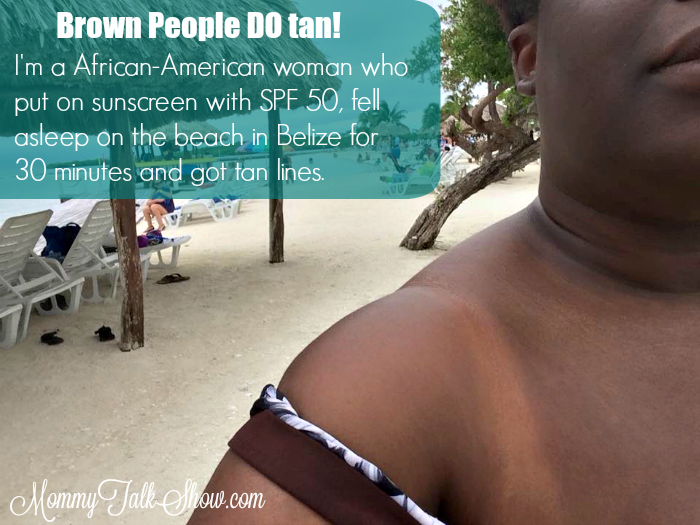 Myth: Never use sunscreen spray on children.
Truth: Although the FDA recommends no longer using sunscreen spray on children and recommends using lotion, if you only have a sunscreen spray – spray it on to your hands, then rub it on to the child's skin. Sunscreen sprays can pose a breathing risk.
Myth: Sunscreens are waterproof.
Truth: Waterproof labeling is no longer allowed on sunscreen. Look for sunscreen that's water-resistant and is labeled for how often it must be re-applied.
[Tweet "Look for children's sunscreen that's water-resistant NOT waterproof."]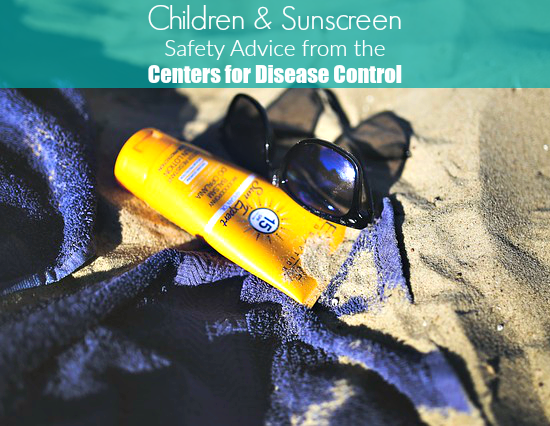 These are my affiliate links: I choose Banana Boat Kids lotion SPF 50 that's water-resistant for A.J. and for myself, I recently purchased Banana Boat Ultra Mist Spray SPF 50.
Dr. Gery Guy from the CDC recommends that families take a multi-layered approach to sun protection by wearing hats, sporting sunglasses and seeking shade at peak times of the day.
For more sun protection advice and research, visit the CDC Skin Cancer information site.
Comment below: What's your family's best sun protection tip? How important is the SPF number when you select a sunscreen?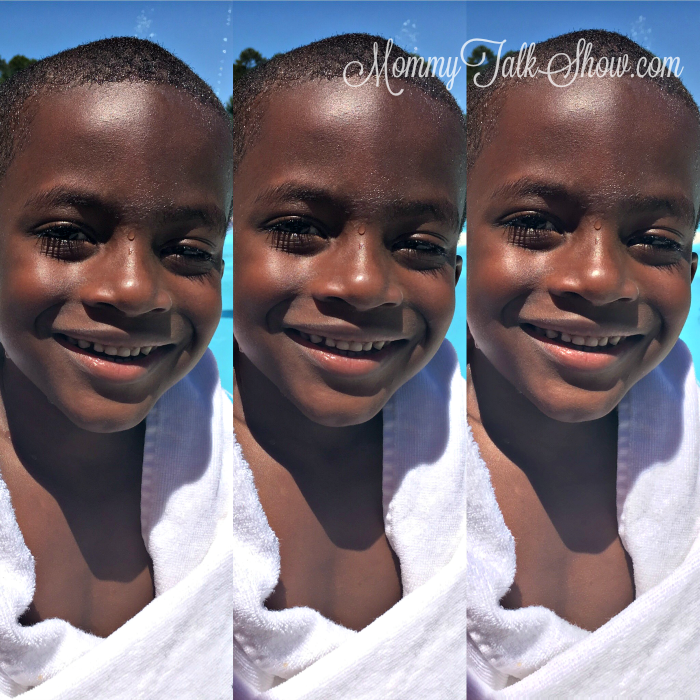 You may recall our December Carnival Cruise Line vacation where we enjoyed the beach and on-board activities. We wore sunscreen daily!