Social Media for Non-profits and Religious groups who are struggling with Facebook and Twitter will be the focus of this event in Atlanta. Use the tools below to register and share this event on social media.
Date: Saturday, May 18, 2013
Time: 11: a.m. to 1:30 p.m.
Location: First Alliance Church in Atlanta, 2515 N. Druid Hills Road in room 100
Registration: Starts at $15 with special discounts if you bring a friend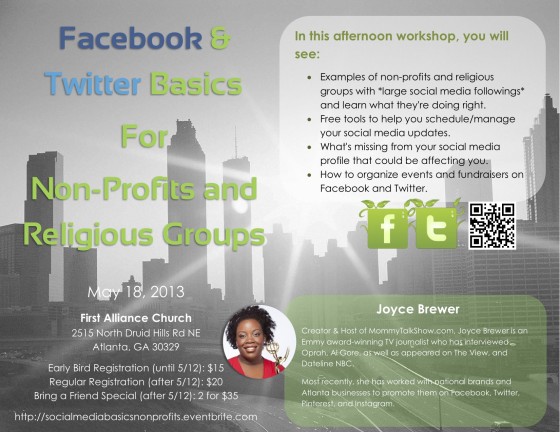 In this afternoon workshop, you will see
Examples of non-profits and religious groups with *large social media followings* and learn what they're doing right.
Free tools to help you schedule/manage your social media updates.
What's missing from your social media profile that could be affecting you.
How to organize events and fundraisers on Facebook and Twitter.
About the facilitator:
Joyce Brewer is an Emmy award-winning TV journalist who has interviewed Oprah, Al Gore, appeared on The View and Dateline NBC.
Most recently, she has worked with national brands and Atlanta businesses to promote them on Facebook, Twitter, Pinterest and Instagram.
Since 2010, Joyce grown a community of more than
4,900 Twitter followers
2,000 Facebook fans,
1,000 Pinterest followers
500 Instagram followers 
200 YouTube subscribers with 34,000+ video views
Help spread the word
Download or print the flyer about for the event for non-profits and religious groups.

Use the QR code to RSVP on your mobile device.
Use the social sharing tools below to spread the word on Facebook, Tweet, Pinterest and +1 this post
If you have any questions about this upcoming class, video marketing or social media contact Joyce.