Tough stains need extra attention and Purex Plus Oxi Clean is designed to tackle them. I just used it to clean my washable mop head because it was incredibly grungy. Before I'd washed it in hot water and ammonia, but didn't see much of a difference. This time I pre-treated and pre-soaked the mop in Purex Plus Oxi to see how well it worked.
Look at the before & after photos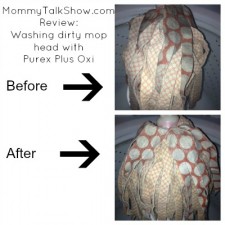 I was pleased with how much "grunge" the Purex Plus Oxi helped wash out of my mop head and plan to use it again on tough stains on my two year old son's clothes.
Purex® plus Oxi is so powerful, it works against over 101 different stains!

The three stain-fighting enzymes in Purex plus Oxi each work against different types of stains for the most Purex stain-fighting power you can get.
In honor of the launch of the stain fighting liquid detergent, Purex is hosting giveaways for products and a $1,000 Sweepstakes.
Enter to win Purex Plus Oxi Clean by November 7th
I'd like you to enjoy Purex Plus Oxi to keep your clothes and household items clean, so I'm giving away three (3) bottles. Enter by November 7th.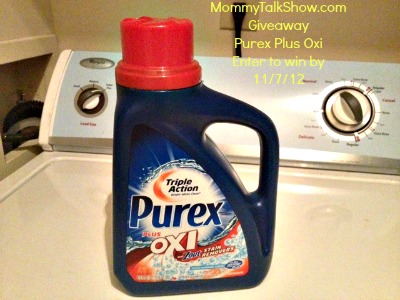 Enter to win $1,000 Purex Sweepstakes
Purex is giving away $1,000 to one lucky winner, plus a number of other prizes
Runs through 10/15-11/16
There will be one (1) Prize. The Prize winner will receive $1,000 in the form of a check or gift card and a (1) year supply of Purex plus Oxi detergent in the form of 10 "Free Coupons" valued at up to $6.00 per coupon.
Use this link to enter the Purex Sweepstakes
Read rave reviews from Purex customers on Amazon.com
Disclaimer: This giveaway is sponsored by Purex.
I received complimentary Purex Plus Oxi Detergent for hosting this giveaway.
All thoughts and opinions are my own.