At A.J.'s one year check-up last week I expected his pediatrician to say it was O.K. to turn his car seat to forward facing. Not so. She told us doctors now recommend keeping children rear-facing longer. Here are the new car seat guidelines.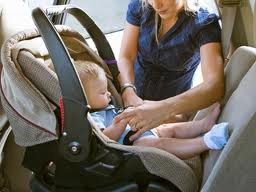 The American Academy of Pediatrics has new 2011 guidelines for children and car seats:
In a new policy published in the April 2011 issue of Pediatrics (published online March 21), the AAP advises parents to keep their toddlers in rear-facing car seats until age 2, or until they reach the maximum height and weight for their seat. It also advises that most children will need to ride in a belt-positioning booster seat until they have reached 4 feet 9 inches tall and are between 8 and 12 years of age.
Here is a CNN report explaining how the new guidelines can protect children:

I told A.J.'s pediatrician I was concerned that because his feet now touch the backseat that it was dangerous to keep him rear-facing. She said doctors would rather risk a child breaks their legs in a crash while rear-facing instead of the risk of neck and spinal damage if they head is jerked while forward facing.

The AAP's new recommendations make me relieved that we purchased the Graco SnugRide 35 car seat and Graco base for A.J. According to GracoBaby.com, "Our top-rated Graco SnugRide™ 35 has been thoughtfully constructed and rigorously tested for safety, including side-impact testing, to help keep your baby secure up to 35 pounds and 32 inches tall." So our investment will last a little longer than other car seats.