I'm attached to my iPhone 4S from the moment I wake up until I go to bed. We don't have a home phone (right now) so it's my primary number, still and video camera for family and work, as well as my primary social media tool. As a blogger and marketing consultant, I use my phone to check email, send/schedule tweets and generally run my business. So it's no surprise that my iPhone needs a lot of power to handle all of these demands. When Mobile Chargestik asked me to spend time using it and reviewing I jumped at the opportunity. My husband is still holding on to his iPhone 3 which barley holds a charge, so he needed some juice too.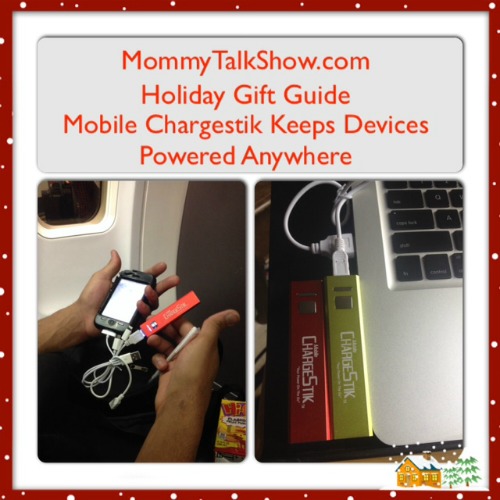 Mobile Chargestik
Charge on the go. Power cords require you to leave your phone close to an electrical outlet. The Chargestik lets you move the mobile battery anywhere you need it. It comes with adapters that fit phones, tablets and cameras.
Price: $44.95 + shipping, $10 for optional accessories
Color: Choose from eight (8) colors
Easy to use. The instructions are simple. Use your computer to power the Chargestik. When it's powered up the indicator light goes off. You can unplug it and use one of the adapters to attach it to your phone, camera, camcorder or device. I use my Macbook to power the Chargestik,, then take the Chargestik with me to coffee shops, meetings, play dates and days I volunteer at A.J.'s preschool.
Personalize it. I chose the yellow Chargestik because it's my favorite color and the red one for my husband because we'd be able to distinguish them. Order Chargestik's with your brand or business name as well.
Mobile Chargestik Reviews
Anytime my iPhone power cord was out of reach, the Mobile Chargestik came in handy!
When I needed to rush A.J. to urgency care after I accidentally served him a protein bar with peanut ingredients, I grabbed my phone and Mobile Chargestik on the way out the door so I could keep in contact with my husband and family. I knew my phone wouldn't die while we were in the waiting room and exam room for a few hours.
When we traveled for Thanksgiving. Now that the FCC allows you to keep phones on in-flight as long as they're in airplane mode, my husband and I used flight time to charge our phones. Once we landed, we still had to grab a Marta train and rush to preschool.
Who is the Chargestik for?
Bloggers, writers, photographers, video editors, and gadget gurus; anyone who's on their phone, tablet or camera for work or fun. Don't forget teachers and babysitters.
My only recommendation for Chargestik is to offer a case that allows you to carry the stik and adapters together. We're using rubber bands to keep the cords attached to the stik right now. I'll keep them tucked in one pocket of my laptop bag when I'm on the go.
Connect with Mobile Chargestik
Visit the Mobile Chargestik Website and like Mobile Chargestik on Facebook.
Comment below: Is there anyone on your gift list who needs a Chargestik?  How would it help your family juggle the power demands of smartphones, tablets and cameras?
Disclosure: I received two (2) complimentary Mobile Chargestiks to review and
share my honest opinion for gift ideas in the 2013 Holiday Gift Guide.