Each Spring, private and independent schools start the push for Fall registrations. I've read a lot about open houses in my Facebook groups, on parenting listservs and my mom groups. One component I've found that's often missing in a school's marketing plan to reach more families – is a professional video.
Videos are a great way to do that since they give parents a glimpse into your school before they attend an open house. Videos are shareable! Who wouldn't want to go viral in this age? Schools can add a video to their website, e-newsletters, social media pages, especially Google Place profiles.
Here are a few marketing video ideas for schools, samples of my professional work and a special offer to work with me (an Emmy award-winning TV mom) to produce a video for your Atlanta-area school. Use the social sharing tools to Pin, Tweet and Facebook this information with a school director or teacher!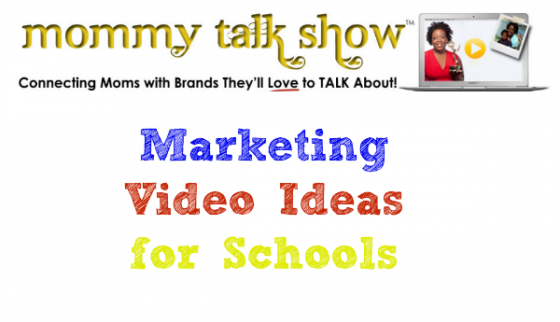 Marketing Video Idea Ideas for Schools
Tour – Do a walk through video of your school that shows the day's flow. Start at the front door, show off the class rooms and play spaces. Wrap up with how the day ends at school pickup.
Frequently Asked Questions (FAQ) – What are the questions you frequently answer about your school or program philosophy? Have a teacher or parent answer them on-camera. If someone is camera-shy, create a slideshow with the questions and answers.
Profile Director – Your school's director, owner or a long-standing board member is the perfect person to represent the school in a video. Create a short 1-2 minute video explaining what makes your school stand out and fit a prospective family's needs.
Testimonial – Let the parents and past students speak for you in a testimonial video. They can be interviewed together or separately. Focus on the amazing milestones that students have achieved.
Lesson or Tutorial – Take parents on a step-by-step journey on a school lesson or tutorial. Showcase a teacher's area of expertise or amazing projects students created.
Comment below: As a parent, what would you like to learn about a school in a video you'd see on their website or marketing materials? Does your child's school use video to connect with existing or prospective parents?
Profile Video
Here's a sample Power Profile Video I created for entrepreneur Angela Stalcup. A similar video profiling your school's director, owner or a board member can be just as effective!
Here's an impromptu one-on-one interview I did with the owner of Bean Work Play Café in Decatur. A one-on-one interview is great for subjects who aren't used to being on camera and don't want to go-it-alone. Having a professional interview them vs. coming up with a script in their head, can alleviate the stress!
Tour Video
When Bean Work Play Café operated as a co-working space and child care center in Decatur, I created this video that gives you a glimpse inside the Reggio-inspired space. (There are also great testimonials from parents.)
Testimonial Videos
Let your fans speak for you in a testimonial video like the one I created for Music Together with Miss Wendy in Decatur.
Atlanta Schools Video Offer
As a journalist and a mom, I can help you identify what parents really want to know about your school and make your video stand out from the crowd. If your Atlanta-area school would like help creating a professional video campaign, I have a special offer to save $300 on professional video production if you reserve your video shoot by April 30, 2014. This is an affordable and effective way to boost Summer and Fall registrations.