Tonight at 9 p.m. EST you can watch "E-book Author Moms" in the player below featuring guests who've written and promoted their own work. Before the show starts,  you can tweet, like and share the link to this post.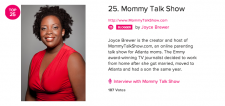 I'll also share my experience writing my e-book, Use What You Know: A Business Idea Guide for Moms. It helped me get featured in a story on Fox 5's Good Day Atlanta and earn the Circle of Moms Top 25 Book Author Moms. It also generates income for my blog from sales.
Watch "E-Book Author Moms":
Use your webcam to join in the conversation about how they finished and marketed their e-books by using this Spreecast Link.

E-book Author Moms/Guests:
1. Tiffany Wong of The Bizy Mommy (@thebizymommy) is a wife and mother six children. She runs a small business with her oldest son and blogs about her life. Tiffany just released The $5.00 Cookbook.
2. Dr. Lisa Richardson (@drlisawp) is a single mom of two boys who is a WordPress and business efficiency pro through You Can Flow! Her e-book, The WordPress Therapist, is a must-have for bloggers and business owners who like a DIY website.
3. Erin Moore (@authorerinmoore) is a wife and mother of two. Her book Kissed by Moonlight will be released this week.