Friday, May 10th at 2 p.m. tune in to a live interview with Nancy McBride. She's the National Safety Director for the National Center for Missing and Exploited Children (NCMEC). Nancy has great advice on whether "stranger danger" is a good term to teach your kids, how to be safe at amusements parks this summer, what we can all learn from the Cleveland Kidnapping Case and what is National Missing Children's Day.
Watch, learn, share!
As a Mother, my eyes have been glued to the news in Cleveland of three women who were found alive after more than 10 years. My heart aches for the victims and their families. The timing is amazing to bring attention to National Missing Children's Day – May 25, 2013.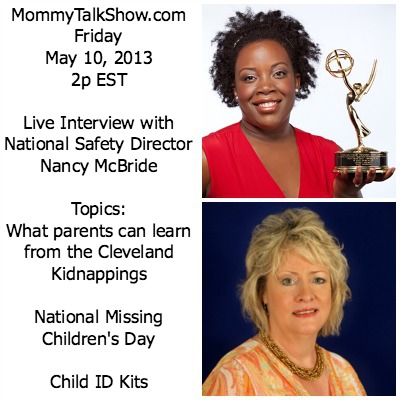 Comment below if you have a question you'd like me to ask Nancy McBride about teaching children about strangers and empowering yourself as a parent. Leave you Twitter handle too and tweet this post to spread this word about this live event.

NCMEC Resources
1-800-THE-LOST (1-800-843-5678) is a 24 hour hotline to report a missing child.
Create a Child ID Kit with up to date information about your child.
NetSmartz Workshop a workshop for kids ages 5-17
Keep track of national Amber Alerts.
I'm not receiving any compensation for this interview or promotion of this online event.