Around this time of year, 23 years ago I was wondering who I'd go to the senior prom with and what I'd wear. Turns out, my dress was a more reliable choice than the guy who asked me to the prom – then skipped the event to participate in the state track finals. Back then, there was no JenJenHouse online store for fashionable, affordable prom dresses. A family friend made my prom dress by hand because I didn't want an uncomfortable moment like I had at the junior prom where two girls wore the same dress that I did! If you or someone you know has a daughter headed to the prom this year, consider JenJenHouse your go-to for dresses.
Price, Selection and Shipping
Formal dress prices at JenJenHouse start at $79 and typically beat what you can find at its competitors. If you've stopped by your local mall or boutique, you know that a formal dress costs way than that!
The selection of formal dresses is amazing. I remember my prom dress intricately and it's still hanging in the closet of my parent's home. It was long, white, elegant and off the shoulder. Not many girls wore white dresses to proms back in the early 90's. But when you search for white dresses on JenJenHouse, you'll find a much better selection that I did in 1991. There are also Oscar, Grammy and Golden Globe inspired looks in case your daughter wants to rock a similar look to her favorite celebrity.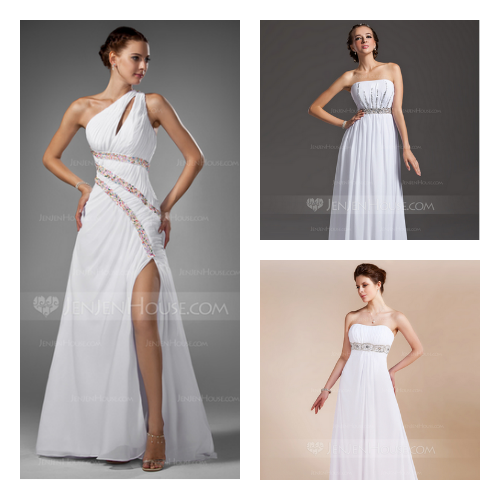 Expedited and overnight shipping is available for JenJenHouse.com purchases around the world.  I noticed each dress has a unique tailoring time and shipping time, so make note of that before you order.
Be bookmark, pin or tweet this link to a friend in case they need a backup dress this prom season.
Click to Tweet
Check out Fashionable, Affordable Prom Dresses @JenJen_House Offers via @MommyTalkShow #ad http://t.co/PWICj9QKVN

— Joyce Brewer (@MommyTalkShow) February 27, 2014

Follow JenJenHouse on Facebook for fashion and design advice.
Disclosure: This is a sponsored post by JenJenHouse. All thoughts and opinions are my own.