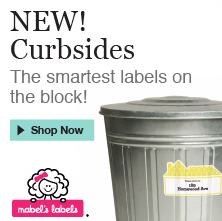 Was one of your New Year's resolutions to get organized?
If so, you'll be thrilled to find out that Mabel's Labels has just launched their newly re-designed line of Household Labels. These labels are a must-have to help families get, and stay organized at home.
Developed by professional organizers, these labels organize everything from storage bins, food containers and spice jars to craft supplies, electronics cords and trash cans.
I'm a Mabel's Labe's Buzzmama and regularly get to try or write about new products.
I created this video of review of the allergy alerts that are still on A.J.'s juice cups and bowls. They've survived everything like the dishwasher and getting dropped!
Be sure to check out all of Mabel's Labels great new products today.