"I participated in an Influencer on behalf of Influence Central for Sweet'N Low. I received a promotional item to thank me for my participation."
Instead of creeping up to the bathroom scale reluctantly (or avoiding it all together), I've been delighted to weigh myself twice a week. Thanks to a few dietary changes, I've shed almost nine pounds. I eased my way in by taking some simple steps that mainly centered around what I drank  – instead of what I ate.
"Don't drink your calories" ~ popular reminder from nutritionists
Leave your for nutrient-rich foods like fruits and vegetables instead of sugary drinks.
I followed that advice for the last few weeks.
I drank more water.
I drank no alcohol. (Even when I took my husband out to dinner for his birthday!)
I drank more healthy mocktails.
In case you don't know what a mocktail is – it's an alcohol free version of your favorite cocktail. It hasn't hurt that I've started walking more either. A.J.'s bicycle now resides in the trunk of my car so we can hit the local parks after school. He bikes. I walk.
For me, one of the easiest ways to cut calories starts with cutting sugar and carbs. Since I tend to like sweet wines like chardonnay and moscato, eliminating wine from my diet was an easy place to start.
I also tasted how refreshing summer drinks like sweet tea with Sweet'N Low. Don't "hesitaste" to try your favorite beverages with Sweet N' Low too and find some great recipes on its website. I hadn't tasted the sugar substitute in years and it was sweeter than I remembered.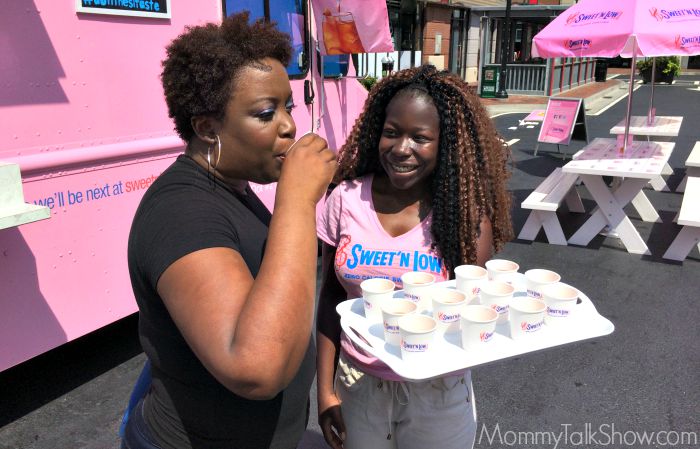 The Sweet' N Low truck rolled into Atlanta's Atlantic Station earlier this month. The pink shirt team handed out of the southern favorite, sweet tea, sweetened with Sweet'N Low. The tour is still on the road and you can see when it's coming to a town near you. Mention "Mommy Talk Show" while you're there to get a free gift. Keep reading for the details on a fun Sweet N Low contest too, especially if you love to snap selfies!
The National Cancer Institute, American Diabetes Association, World Health Organization are among those who recognize the saccharin in Sweet N' Low is safe to eat and can be part of a healthy lifestyle. Did you know that one packet of Sweet'N Low can help your food or drink taste as sweet as if you'd used two teaspoons of sugar?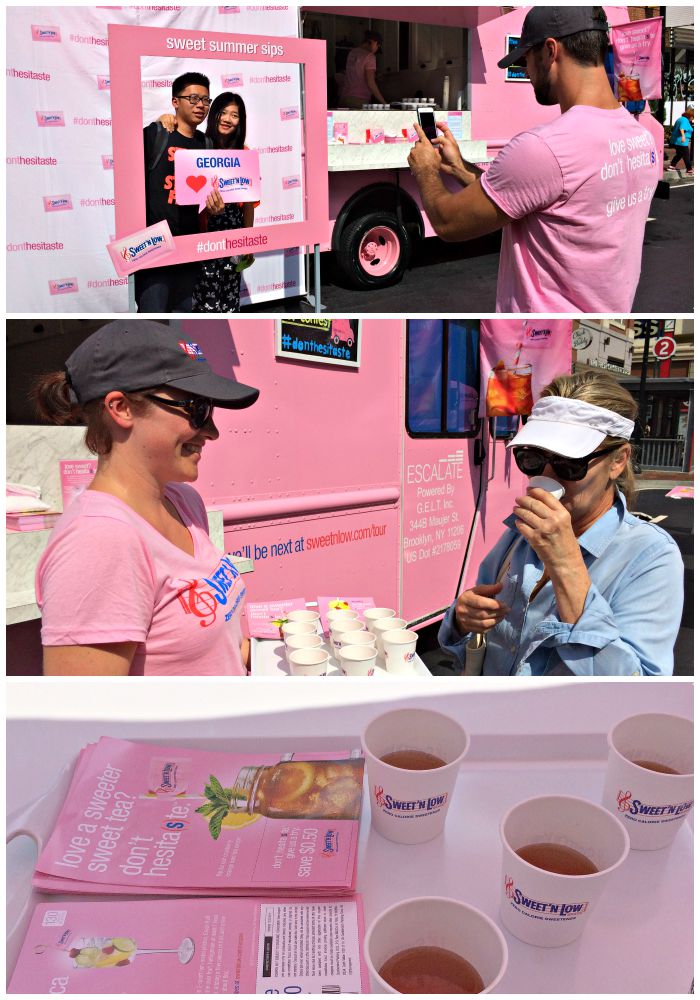 Taste a beverage. Grab a on next Sweet N Low. Bring children too. Our son had a blast playing cornhole and I captured this video:
Stop by @SweetNLowBrand truck @AtlanticStation for samples & games for the littles! #ic #ad #DontHesitaste #twitvid pic.twitter.com/V5rHWCw3t5

— Joyce Brewer (@MommyTalkShow) August 22, 2015

What Makes Mocktails Marvelous?
Fresh squeezed fruits, like lemons, limes, mangos and even kiwi are key ingredients for a mocktail. They add sweetness and color to your drink,  then slice them for garnish.
Add a sparkling water for some fizz.  This is especially needed if you like a wine spritzer or want to feel like you're having champagne.
A martini or wine glass are required. Just because you're not drinking, you can still feel like it with pretty stemware. Sweet'N Low sent me a martini glass that was perfect for the mocktail martini I made with green tea.
For sour drinks you may need a little sweetener. Go guilt-free by skipping sugary syrups. Add a packet or two of  Sweet'N Low for a calorie-free sweetener.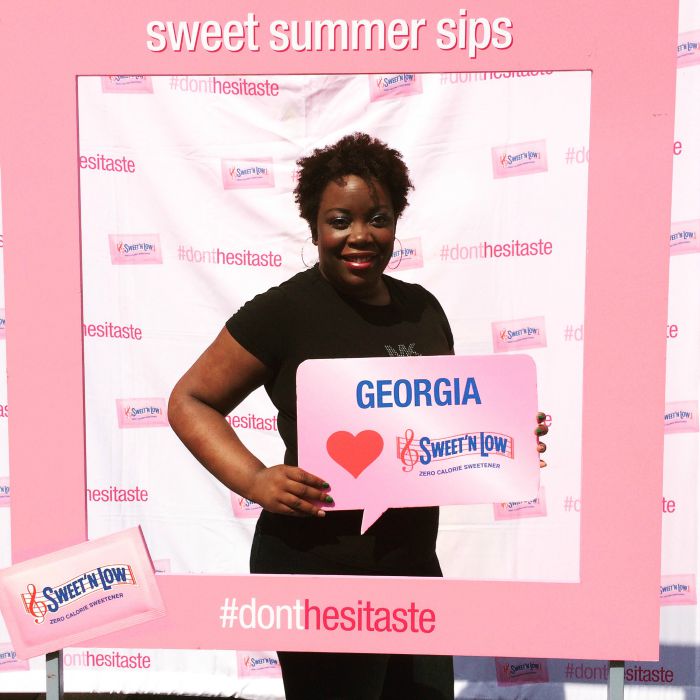 "To enter the #DontHesitaste photo contest, upload a picture of your favorite Sweet'N Low-sweetened drink for a chance to win money, prizes and more! To be considered you must use the hashtags #DontHesitaste and #contestentry in your post."
Good luck!