Ladies, you are beautiful!          Gorgeous.         Fabulous.         Fantastic.
You are an absolutely unique one-of-a- kind beauty unlike anything anyone has ever seen before. After all, there is only one you! So breathe a sigh of relief, because no matter what you have coming up this season, these things will always remain true about you. So when it comes to all things fashion and beauty this holiday season please remember to K.I.S.S. (Keep It Simple Sweetie)
Let this be especially true for your routine throughout the holidays. Here are some simple holiday makeup tips.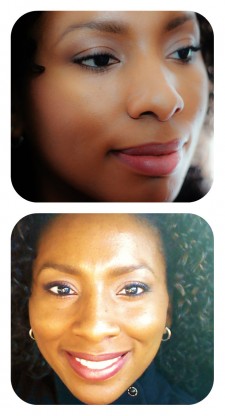 I love makeup! There is just something about getting dolled up that makes me feel like a lady. But, with two toddlers running around I am fortunate if I get 10 minutes (really 5) to spend putting on my face. So it is imperative that I keep it simple. It is definitely possible, from start to finish, to flawlessly compliment your assets and not spend an hour doing it!
To get that fabulous face finished quickly you must:
1) Start with the basics: Foundation (concealer if you need it) and Powder. The proper tools make this the quickest step!
2) Pick your featured area: Eyes or Lips? You only want to highlight one of these areas, never both! A dramatic smoky eye and a nude lip are always a classic win for any evening event. Or, a pop of color on the lips with a neutral toned eye is equally as classy.
Voila! Sanity maintained and you look great in the process.
Okay, I have a confession. I actually wait all year long, every year for the holiday season to purchase my makeup and brushes simply because of the gift set specials. Now if I need something basic i.e. Eyeliner or mascara, I will absolutely make a run for the drugstore. But when it comes to buying the higher end makeup products, tis' the season! You can get the items you have been waiting to try but not wanting to spend the money on in sample sizeand in full sizes for a portion of the normal cost ( or even free! ) Take a walk through any department store cosmetics section and it looks better than a candy store! So take your time, stroll around, hand your baby whatever (I do mean whatever) it takes to keep them quiet. If you're able to, go alone. This is absolutely a good reason to take a 'mommybreak'. Make friends with the makeup artist. They are more than ready to show you the best colors and tools to not only get you through the holidays, but all year around.
Keep this in mind:
If  possible don't go on the weekends. It is a zoo in the stores, and this can be frustrating for you and the salesperson.
If you must go on the weekend,earlier in the day is better and way less crowded.
Think through the items and don't be afraid to walk away for a few minutes. You want to check your makeup in different settings. Go into the bathroom and also step outside with a mirror to check that you are pleased with the way your makeup looks. 15-20 minutes allows foundations and powders time to set on your skin and you will be able to see clearly if you do or don't like the appearance. This is much better than going all the way home with a bag full of items that don't look the way they did under the cosmetic counter lighting. Don't be afraid to explain this to your makeup artist, they will absolutely understand. (Note: If you do sit down and have a full face done most places will expect you to purchase.)
Always remember beauty starts from the inside out!