When my Father moved from the nursing home to at-home hospice care, my Mother needed to find additional help. Insurance covered the expense for nurses and aides to care for him during the day. But when it came to evening help so my Mother could attend weekday church services, she found a volunteer service and a volunteer named Joe.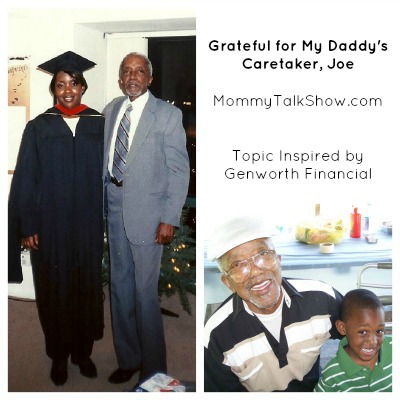 I never met Joe in person. But I talked to him weekly while he sat with my Father once a week. Joe answered my parent's home phone, I reminded him who I was and asked him how my Father was doing. Some days my Father was well enough to talk. Other days he was asleep.
I know Joe's time with my Daddy, sitting with him and talking baseball meant so much to my Mother. She could get the spiritual support she needed at church and know that a reliable person was caring for him.
Joe helped put me at ease too. You hear so many horror stories about elder abuse. But Joe was good to my Father. I couldn't be there since I was here in Atlanta with a new baby. Talking to Joe on the phone put me at ease.
I know Joe didn't get to see my Father at his healthiest or strongest. But my Father made such an impression on Joe that months after he passed away, Joe still hadn't volunteered for a new family.
Do you have to care for loved ones who don't live nearby?
Have you ever had to hire long distance caregivers? 
Here's another option to help families feel comfortable when it comes to elder care. Seniors are opting to stay in their homes as long as possible and surrounding themselves with supportive services.
Disclosure: This post and background material are presented by Genworth Financial 
where you can learn more about mortgages and planning ahead for your family's future. 
All thoughts & opinions are 100% my own.