Look at your calendar and you've probably got a holiday party or two ahead before the end of the year. As moms, we've got to maximize our time to get fancy and fresh! Whether I'm rolling solo or with my husband, I'm always at a time crunch for getting dressed to go out. Hopefully your babysitter arrives on time, you picked out your holiday outfit and you can use these steps to get dressed for a holiday party fast!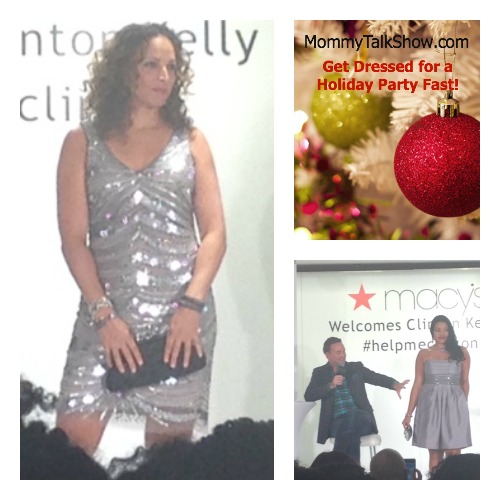 Don't you just love those silver holiday dresses in the photos above? They're from the Macy's Holiday event with Clinton Kelly! But back to the topic:
Get Dressed for a Holiday Party Fast
1. Share the bathroom with your husband/partner/roommate.
You can get dressed quicker when you share the bathroom instead of waiting to take turns. For instance, my husband takes long luxurious showers and I could wait 30 minutes until he's through or maximize my time by doing my makeup. But the mirrors get fogged.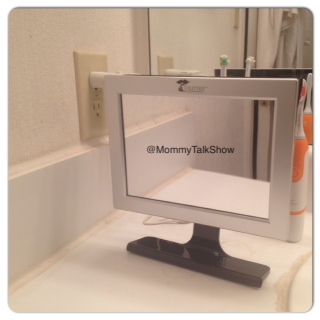 So I just put together the Toilet Tree Fogless mirror. Instead of using it in the shower by attaching it to the wall, you can place it on the counter. Fill it with reservoir in the back with hot water and  "the water neutralizes the mirror and air temperature to eliminate fogging."
Great gift idea for guys who like to shave in the shower or a friend who's working on their skin care routine to exfoliate in the shower! Follow @ToiletTreeProd for other gift ideas.
2. Keep your makeup simple. Don't feel pressure to create a photo-shoot ready face. Instead focus on one key feature you'd like to pop like your lips, eyes or cheeks. Here's a guest post from Linda Edwards with simple holiday makeup tips.
3. Double duty. Select undergarments that do more than one thing like pantyhose with shape wear that's built in.
Try BB cream, it's a moisturizer and blemish balm to apply before you use make up. Although I wasn't thrilled with the L'Oreal Magic BB cream there are plenty of other brands that get rave reviews!
4. Moisturize and shave your legs at the same time.  I just used the Somersets Extra Sensitive Shaving Oil for Women. You rub it on wet skin, wait about 30 seconds and shave. I was amazed at how much moisture it added to my skin compared to using shaving cream, then still needing moisturizer. Somerset also makes English Shaving Oil for men. The oils retail for $6.99 and can be found at drug stores. Buy them online at DrugStore.com. Think of it as a stocking stuffer for teens, college kids or teacher holiday gifts (especially the oil for men for male teachers.)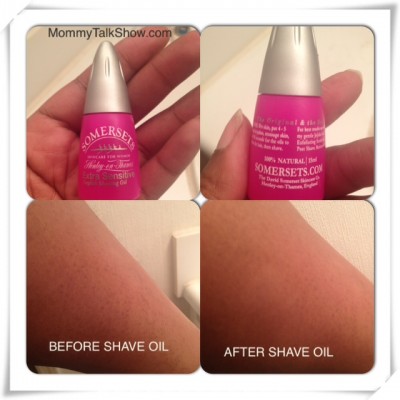 5. You go-to is an updo. Don't fret about your hair too much. Find a great brush and accessories to finish your look. When I attended a December birthday party, I pulled my hair back even more to show off the designer Gloss Jewelry necklace and earrings.
With these tips, I hope you can arrive to the holiday party on time. Breathe. Relax. Mingle.
Comment below: Add your advice on getting dressed quickly for an event like a holiday party or New Year's Eve Party.
Disclosure: I received Somersets all-natural shaving oil and the Toilet Tree
Fogless mirror to review and share my honest opinion.