from Return to Eden Organic Market at 2335 Cheshire Bridge Road in Atlanta
Organic & Gluten-free family snacks
While you're shopping for back to school clothes and school supplies, make sure you've got healthy snack in the fridge or pantry. Here's a look at some of the organic and gluten-free snacks available at Return to Eden organic market in Atlanta:

Return to Eden Organic Market Coupon
Since 1993, Return to Eden has been offering one organic and vegetarian options for Atlanta families. On its Facebook page  Return to Eden shares health and wellness news, as well as special events and promotions at the store. To see a selection of gluten-free and organic foods visit Return to Eden at 2335 Cheshire Bridge Road in Atlanta at the corner of LaVista Road.
Print a $5 off coupon for  your purchase of $25 or more from Return to Eden Organic Market. It's a great way to stock up on healthy snacks before school starts.
Did I lose any weight?
Yes, for the second week in a row I've lost – from 202.8 to 202 lbs. So I'm just 3 pounds from my goal to lose 10 pounds by my birthday in August.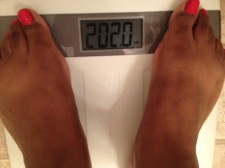 Disclaimer: This post is sponsored by Return to Eden Organic Market at 2335 Cheshire Bridge Road in Atlanta.
All thoughts and opinions are my own.
Use the social sharing tools below to spread the word & share this $5 off coupon
with Atlanta friends and family who'd like to live a healthy lifestyle.