Week 6 Check-in
Thanks to what I've learned so far from my personal training session with Cafe Physique, the funky fun of Zumba class at Absolute Body Symmetry and supportive friends, my diet and exercise were on track this week. I hit the gym, went for a walk, planned my meals and generally felt better.
One of the biggest changes I made was adding a simple protein shake to my diet for three days this week. Below you'll find a recipe and and update on my weight loss after six weeks of Fitness Friday.
Breakfast is the most important meal of the day
I asked my Facebook supporters for recipes for a healthy, quick shake. Suzanne Willett of Clutter Ninja shared this super, simple recipe with me. I headed to Kroger for the ingredients, broke out my Osterizer blender and here's what happened:
Did I lose any weight?
Heck yeah I did!
Starting weight: 209.8
Today's weight: 202.8 = 7 pound weight loss in 6 weeks!
You should be able to hear me doing the Happy Dance from your house.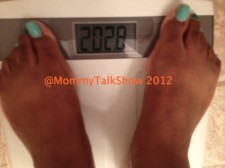 Suggest Sponsors for Fitness Friday
Do you know a healthy, fun fitness company that needs to spread its message to Atlanta moms?
They can e-mail: Joyce@MommyTalkShow.com to work with me to craft an affordable video and social media campaign.